Lead Holds Despite Hoopla Over Supreme Court Health Care Decision
by Glynn Wilson
President Barack Obama still holds a significant lead in the popular vote nationally among registered voters in the U.S. over Republican challenger Mitt Romney, 48 percent to 43 percent, according to the latest Gallup poll published Monday, July 2, in spite of all the hoopla over the Supreme Court's ruling upholding the national health care law.
The president's five-percentage-point lead is the same as the margin reported three days ago, two days after the health care ruling, and marks his biggest lead in Gallup Daily tracking since April, when for two reporting periods he had a seven-point lead over Romney. The current stretch of six days in which Obama has led Romney in each day's average is also the longest such streak for the president since April.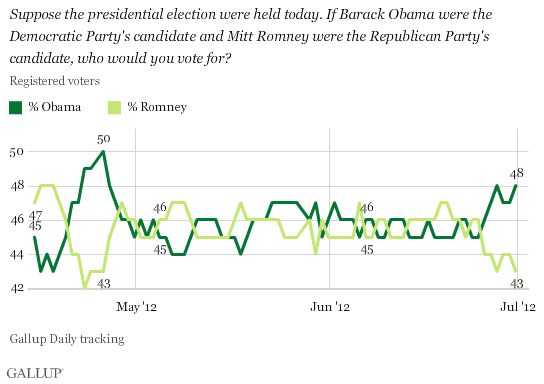 Romney has not been ahead of Obama by more than two points since mid-May, and Romney's largest lead of five points occurred in April.
The current June 25-July 1 average includes four days of interviewing after the June 28 Supreme Court decision upholding the Affordable Care Act. Obama's prior five-point lead, from June 22-28, was based on interviews conducted mostly before the decision. Therefore, although the Supreme Court decision may be a reason for Obama's currently more positive position, he was gaining on Romney prior to the decision.

In addition, President Obama is also leading in the electoral college vote projections 326 to 212. The only way the Republicans will take back the White House in November is to commit voter fraud and steal the election in close swing states.
The presidential race has exhibited a general tendency this year to regress to parity — each candidate has averaged about 46 percent support since Gallup Daily tracking began April 11.
So, according to Gallup, "it remains to be seen if the two candidates will move back into a more even position in the days and weeks ahead, or if Obama is able to sustain his lead for a longer period of time."
The next major event on the presidential campaign horizon is the U.S. government's July 6 announcement of the June unemployment figures. It's unclear from previous months whether these unemployment reports significantly affect the standing of the two candidates, at least in the short term. Still, Gallup Daily tracking of unemployment on a continuous basis suggests the potential for the report to show a decline in unemployment in June, which would generally be a plus for Obama.
Romney will make his announcement of his vice presidential running mate at some point in July or August — an event that will give him a guaranteed burst of media attention. Given the two-week-long Summer Olympics that begin July 27, Romney's announcement will almost certainly either be made before July 27, or follow the Olympics in mid- to late August — in the ramp-up to the GOP convention, which begins Aug. 27.
Obama's Job Approval: No Rally Effect From SCOTUS Healthcare Decision
Obama's job approval rating for the three-day period Thursday to Saturday — immediately after the Supreme Court healthcare decision — was 48 percent, while his approval rating had averaged 46 percent for the three days immediately preceding the decision. That two-point increase is not large enough to qualify as a "rally event," particularly given that his average for Friday to Sunday is back down to 46 percent.
Obama's 47 percent approval rating average for the week of June 25-July 1 puts him exactly where George W. Bush was in a July 8-11, 2004, and of course Bush won re-election. Bush went on to win the election that November with a three point advantage in the popular vote.
Obama's approval rating remains below those of Bill Clinton in late June 1996 (52 percent) and Ronald Reagan in late June/early July 1984, (53 percent) both of whom went on to win handily in November. But the president's ratings continue to be well above the dismal ratings range earned by George H.W. Bush in late June 1992 (38 percent) and Jimmy Carter in late June 1980 (31 percent). Both of these presidents lost their re-election bids.
Implications
A number of upcoming events have the potential to affect the standing of the two U.S. presidential candidates between now and the Nov. 6 election, according to Gallup, including monthly unemployment reports, Romney's announcement of his vice presidential running mate, the two major-party conventions, and the three scheduled presidential debates in October.
"The race has been close among registered voters so far this election cycle, but President Obama is now showing a slightly more sustained lead in recent days than he has previously," Gallup says in its analysis. "However, the history of the 2012 presidential race so far has been one of essential parity, suggesting the real possibility that the race will revert back to even in the days ahead."
Survey Methods
Results are based on telephone interviews conducted as part of Gallup Daily tracking survey June 25-July 1, 2012, with a random sample of 3,147 registered voters, aged 18 and older, living in all 50 U.S. states and the District of Columbia. For results based on the total sample of registered voters, one can say with 95 percent confidence that the maximum margin of sampling error is plus or minus 2 percentage points.
© 2012, Glynn Wilson. All rights reserved.