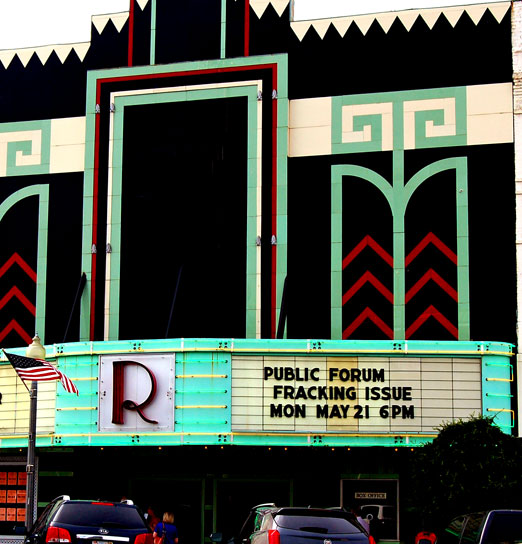 Glynn Wilson
by Glynn Wilson
TALLADEGA, Ala. — About 125 people or more showed up Monday night at the Talladega Ritz to learn more about ways to fight fracking for oil and methane gas in the Talladega National Forest. (A full story and video are in the works).
Many consider the proposal by the oil and gas industry to lease mineral rights from the federal government by mining companies, including Halliburton, to be a dangerous threat to the health and safety of not only nature in the area, but a public health threat to drinking water supplies, as well as a public safety threat with hundreds of dangerous new trucks traveling and destroying the roads.
It is also considered to be a no win situation economically, since it will probably run more tourism dollars off from the area while creating almost no new local jobs and generating no local or state tax revenue.

No public officials showed up to support or oppose the issue, Democrat or Republican, and no agency representatives showed up either. The official public comment period has passed. But one geologist and several science teachers were there to help the public understand the issue.
It was announced at the meeting that state Sen. Gerald Dial, a Republican real estate developer from Lineville, introduced a resolution in the state Senate to oppose oil and gas leases in Alabama's national forests. The resolution was adopted by the Senate, but the special session of the legislature on redistricting ended before it was taken up by the House. The text of the resolution is below in the comments. But the public should be aware this is a non-binding resolution without the force of law.
The crowd watched several videos on the issue. Here are a couple you should check out if you are interested learning more about fracking.
Fracking Hell The Untold Story: Part One
Fracking Hell The Untold Story: Part Two
We will have a full story and a video up on this issue soon.
For more information, see our previous advance coverage here and here.
© 2012 – 2016, Glynn Wilson. All rights reserved.