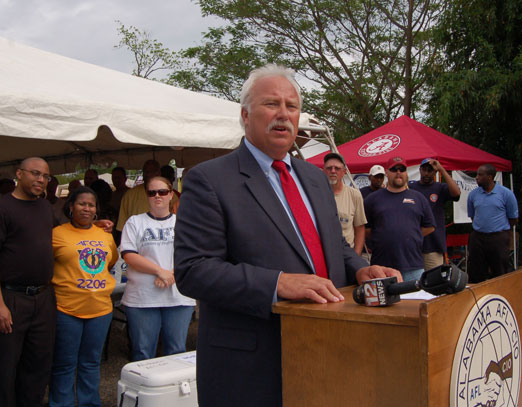 Glynn Wilson

Bren Riley, AFL-CIO Secretary-Treasurer, at a press conference in Montgomery
by Glynn Wilson
MONTGOMERY, Ala. — The Alabama AFL-CIO, like many unions across the country, is in the midst of a rebranding.
Unions have been in decline in the U.S. for many years. But due to the Supreme Court ruling in Citizens Unites v. the Federal Election Commission, which freed corporations and unions to spend unlimited amounts on political campaigns, and due to the labor uprising last year in Wisconsin, unions are rethinking their strategies and trying to grow stronger to take on the growing corporate power and resulting income inequality throughout the country.
Bren Riley, the new Secretary-Treasurer of the group, held a sparsely attended press conference at the group's Road Kill Barbecue on Tuesday and said the state's umbrella union will be highlighting income "inequality" in the coming months.
"We are on a mission to keep the 1% from expanding because the 1%, as we all know, is against everything we are as the 99%," he said.

The Legislative session now underway, under the leadership of the radical, right-wing Republican Supermajority, is following the lead of tea party Republicans across the country in attacking the rights of workers, unions, public employees and public eduction in what can only be described as a corporate takeover of American democracy.
Senate Bill 63 and House Bill 30, which would allow private industry to partner with prison officials for corporate enterprise, puts convicts to work instead of law abiding workers in the state and is reminiscent of the old convict-lease system outlawed in the 20th century.
This is "comparable to institutional slavery," Riley said. "These two bills would allow industries to go behind Alabama's prison walls and ask prisoners to do projects that we feel like some of our kids and grandkids could be doing."
Senate Bill 327 and House Bill 333 will remove the Davis-Bacon prevailing wage standards for public works, reducing the wages paid by the state on any work except projects involving federal money. This will be particularly hard on construction workers, unionized and independent, who have for years been able to make a living wage because of the Davis-Bacon law.
House Bill 541 will initiate the privatization of public schools in Alabama, allowing for-profit management companies to gain total control over the school's education dollars, with little or no taxpayer control.
"We think Charter Schools is probably the most rotten stuff that they've introduced," Riley said. The legislation would take a percentage of public school dollars and set up new private schools and result in the closing of some public schools and the layoff of teachers.
"They're trying to come up with a way for those who want to send their kids to private schools to do it on public education dollars," Riley said. "We support our education system, the Education Trust Fund and our teachers."
In other states, some charter schools are already closing due to "graft and corruption," he said. One business man in Ohio founded the White Hat Society, convinced legislators to re-direct public tax dollars to charter schools and made $78 million before closing down.
"We want our legislators to support our schools and provide the dollars needed for a good public education," Riley said. "Let's stay away from Charter Schools."
Senate Bill 300 and House Bill 285 will make Alabama's Unemployment Insurance program, already ranked 49th out of 50 in the country, the worst in the nation, he said. "It's that bad."
Alabama Workers are entitled to Unemployment Insurance when they lose their job through no fault of their own. Maximum benefits are $265/week.
There is a 1 week waiting period after the 13th week of receiving benefits under the law now.
This legislation moves the waiting week to the first week, meaning it will be at least 4 weeks before an Alabamian gets his 1st Unemployment check after filing for benefits, and the move robs unemployed workers and their local economies of $14 million that will now be sucked up by the hemorrhaging state general fund budget and wasted, not where it can benefit workers and the economy.
Senate Bill 77 is designed to remove the lifetime benefits of worker's for Workman's Compensation, shifting the liability from the employer to Medicare.
When asked what the unions can do to fight the tea party Republicans and their pro-big business, anti-worker legislative agenda, he said the unions are getting together to educate their members and the public by using the Web media and social networking sites such as Facebook and Twitter.
"The days of telling our folks how to vote are long past us," he said. "Probably half our membership votes Republican. We've got to access those folks. If we're going to vote for them (Republicans) and support them then they need to start supporting us."
© 2012 – 2016, Glynn Wilson. All rights reserved.