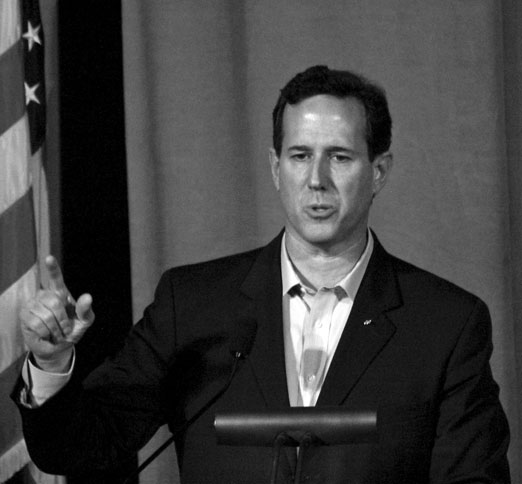 Glynn Wilson
Rick Santorum speaks at the Alabama Theater in Birmingham on election eve (click here to see more photos)
by Glynn Wilson
BIRMINGHAM, Ala. — Conservative Christian Rick Santorum, the former Pennsylvania Senator who is now running for the Republican nomination for president, took the stage at the Alabama Theater Monday night before the state's primary vote on Tuesday and told one lie after another to the fired up crowd of Republicans who want nothing more than to unseat President Barack Obama in November.
The first words out of his mouth were: "This is the most important election of our lifetimes and I don't care how old you are."
The only reason anyone could think this is the most important election in our lifetimes on the Republican side of the aisle is if they are racists who just can't stand it that a black man is president of the United States and may serve a second term. There are no more important issues at stake now than there were in 2000 or 2004 when another Republican, George W. Bush, also appealed to religious voters — people who do not understand the separation of church and state — and nearly drove the country completely off a cliff.
I would argue that it is important that voters stay with the Democrats for one more election cycle to give the economic recovery a chance and to keep these religious freaks out of government who would take us back to monarchy.
"It's about the economy and getting jobs created again in America where we have a president who has put forward an agenda that robs you of your freedom, your taxes and tries to regulate every aspect of your life," Santorum said with a straight, sad face.

Glynn Wilson
The many faces of Republican presidential candidate Rick Santorum of Pennsylvania
These Christian Republicans must not read newspapers or government reports, because if you follow the news like I do here, you would know that the economy is on the way back after eight years of deregulation by Bush that caused everything from the horrible response to Hurricane Katrina in New Orleans to the BP oil spill in the Gulf to the near global collapse of the world economy. What freedoms are people being robbed of by this administration? I can't think of one. It's the Republicans who want to take away a woman's right to choose what to do with her own body. Now that's what I call regulating every aspect of a person's life.
Santorum claims President Obama has "a two letter energy policy: NO. When it comes to drilling in deep water he said no. Alaska: No. Federal lands: No."
What? President Obama has proposed drilling for oil in places even the Republicans never approved it on the East Coast. He has not been anti-oil and gas drilling or anti-coal mining as the Republicans claim, and in fact, that has hurt Obama with the environmental community along the Gulf Coast and elsewhere. Either the Republicans don't know what they are talking about, or they are lying to fool people into voting for them.
Santorum claims to be the only candidate in this race to put forward a "bold" plan for manufacturing. But his plan is simply retread Republican rhetoric about cutting taxes and regulations, policies that did not work under Ronald Reagan or George Bush. And it was President Obama who led the effort to save American automobile manufacturing companies from bankruptcy and now General Motors has paid back loans from the federal government and is now the number one selling car and truck company in the world again. That's not a partisan statement. It is not "liberal propaganda." It is a fact.
Mitt Romney and Santorum are on the record opposing the bailouts and would have allowed the American auto companies to go bankrupt and even out of business. Gingrich is more of a political realist and would have supported the bailouts, but of course he is first a politician so he won't hesitate to bash the bailouts on the campaign trail.
Republicans are not big on facts. They have their core "beliefs," a.k.a. prejudices, and facts don't really matter.
Santorum borrows a line from Reagan's political playbook and talks about "shrinking the size of the federal government," something the Republicans have been campaigning about for decades but doing nothing to accomplish once elected. Santorum claims to have a plan to cut $5 trillion dollars in federal spending over five years and result in a balanced budget. But what does that entail? Will he cut defense spending? No, so what will he cut?
"End entitlements that are means-tested at the federal level and get them back to the states where they belong," Santorum said, code words for ending Welfare, Medicare, Medicaid and Social Security and fighting against a national health care plan so giant insurance companies can continue profiting from peoples' sickness rather than making everybody healthier by providing some coverage to all.
"There is no bigger issue on the domestic front than health care," Santorum said. "Obamacare is the reason I'm in this race."
He went on to claim that if the first ever law regulating the health care industry in this country — not a single payer national health care plan that many say is the only way to insure the 50 million Americans who have no coverage and stop the economic bleeding from an overpriced system — "Every single American will be dependent on the federal government for a benefit for your health and your life."
In other words, "when the government says we're going to give you a right, be careful. When the government says they give you rights, they can take that right away," Santorum claimed. "They can tell you how to exercise that right … whether you want to purchase insurance. Whether you want to purchase the insurance that they want to sell you or they make you buy. They tax you a certain amount. They tax your employers a certain amount. They pay doctors a certain amount. If you don't like some of the benefits and even if the benefits are against your religious convictions, too bad. You will do what you are told with this new 'right' that you have."
"The problem is, the government is not the source of rights in this country," Santorum claims. "Ultimately, that's the most important issue in this race. Where do our rights come from? Who is it that should be in control of this country?"
At this point it becomes obvious Santorum is making the claim that our rights come from "the creator," but he and those who agree with him have a basic misunderstanding on this issue that goes back to the monarchies in Europe where kings had "divine rights" and the people got the word of god from the church. In fact, Christianity is based on statements from Jesus that individuals do not need the church to communicate with God, and the U.S. Constitution and Declaration of Independence are based on a fundamental principle that rights come from "the people," not a god.
Santorum and his colleagues need to go back and re-read the Constitution and the Declaration of Independence again.
The key quote from the Declaration of Independence is: "…Governments are instituted among Men, deriving their just powers from the consent of the governed…" Notice it does not cite God.
In the Preamble to the Constitution, the key quote is:
"We the People of the United States, in Order to form a more perfect Union, establish Justice, insure domestic Tranquility, provide for the common defense, promote the general Welfare, and secure the Blessings of Liberty to ourselves and our Posterity, do ordain and establish this Constitution for the United States of America."
You will not find the word "God" in the Constitution. It is a secular document establishing the enabling laws of a secular government.
But those facts will not sway Santorum, or his tea party supporters, who would not have even fought for the American Revolution had they been around in those days. I wrote more about this recently in this column under the headline: Let Justice Be Done Though the Heavens Should Fall.
"I decided to run for president along with my wife Karen because we believe Obamacare is a game changer for America. It's a game changer at the very foundational level of one word: liberty. Liberty is at stake in this election," Santorum said. "Yes economic development. Yes jobs. Yes, energy are all very important.
What Made America Great?
"But at the core of it, we have a president who believes in ruling you from the top down. That he knows best how to run your life," Santorum said with no basis in fact. "But that is not what made America great."
No, it is the idea that government derives its power from THE PEOPLE — not a god — that made America great. That is the fundamental concept that seems totally lost on those who would sacrifice our real freedoms to the social control of the church.
Santorum continued by criticizing president Obama for backing programs such as Social Security and saying they made the country better. Interview anybody who lived through the Great Depression and they will tell you there is no doubt they made the country a better place to live and probably saved the country from collapsing. But don't try discussing that history with Santorum. It does not serve his political interests. He needs the votes of all those Social Security and Medicare recipients in the tea party who hate the government and its programs in spite of the fact that they would probably be dead without them.
"Ladies and gentleman that is not the reason my grandfather came to this country back in 1925," Santorum says. "There was no Social Security then. There was no Medicare. There was no food stamps. There was no housing program. There weren't any government benefits except one: Freedom."
So that's where Santorum wants to take us back to? The 1920s? When unregulated capitol ran roughshod over labor and as a result, the economy collapsed. When there was not only no Social Security, but no minimum wage and hour laws protecting workers from unscrupulous corporations like the old Standard Oil Company written about by the muckraking journalists in the early 20th century. Let's just forget about the coal mining companies in West Virginia and Alabama who not only used convict labor, they created prisoners of poor people and worked them six days a week, 12 hours a day for nearly no pay.
Is that really the America Santorum wants back?
But wait, Santorum is not finished with his argument. He has to explain "American Exceptionalism" to the tea party crowd.
"People ask: What makes America exceptional? Why are we different? You could go to the Constitution but that's not it," he claims. "It is the Declaration (of Independence) … We hold these truths to be self evident, that all men are created equal and endowed by their creator with certain inalienable rights."
To say that we get our rights from the Constitution, Santorum says, "is wrong. The Constitution does not give us rights. It recognizes rights that are written on our heart because we are a creature of God."
Nevermind science, evolution and the rule of law by human beings, according to this philosophy. Let's put God in charge of government. Nevermind what Hugo Black from Alabama said about the separation of church and state and that "high and impregnable wall" separating the two. Let's tear down that wall, like Ten Commandments Judge Roy Moore tried to do before he was booted from office.
"Our Constitution was constructed to protect those rights," Santorum claims. "We were going to believe in limited government and free people. Never before in the history of the world had that happened. We were going to allow people to have radical freedom …. Our founders believed with God-given rights come responsibilities. We exercise those rights constant with His will."
Nevermind the problem of figuring out what that is trying to navigate between all the different interpretations put out by the myriad of denominations and religious sects who claim to know.
"Life, liberty and pursuit of happiness," according to Santorum, was based on the "dictionary definition" of the word happiness at the time of the Revolution, which "was to do the morally right thing consistent with God's will because that's what would lead you to true happiness."
It's not clear where Santorum came up with this bit of revisionist history. But PolitiFact.com consulted with historians and checked dictionaries from Thomas Jefferson's library, since he was the author of the Declaration of Independence.
According to Johnson's Dictionary of the English Language, happiness is defined as:
1. Felicity; state in which the desires are satisfied
2. Good luck; good fortune.
3. Fortuitous elegance.
According to Bailey's Universal Etymological English Dictionary, the word is defined as, "Felicity, good Fortune."
But facts don't get in the way of Santorum's political rhetoric. He goes on.
"We had this great experiment of building this great society of with limited government from the bottom up. And we changed the world," he said, lowering his voice for dramatic effect.
Then he quotes not an American founding father, but Winston Churchill, the great British Prime Minister from World War II who fought the Nazis and the kind of fascism Santorum would promote if he were elected.
"Winston Churchill said the debate is not about the future. It's about the past," Santorum said. "We have a president who is trying to redefine America's past."
It appears Santorum wants to be the president who redefines Amerca's past, but he goes on to claim, falsely, that President Obama is out there "giving speeches that capitalism doesn't work. That individual liberty leads to greed and unfairness and misallocation of resources."
"In 2008 America was sold a bill of goods," Santorum said. And one of his tea party supporters shouted out, "You got that right."
"We had a candidate who went around and tried to convince you that you needed to vote for someone who you can believe in. Someone who would solve the problems for you, pay your mortgage," Santorum said. Somehow I don't remember that speech. Oh, that was a tea party speech, not Mr. Obama. "But after now four years of looking at what putting your faith in government can do, we as Republicans need to step forward and nominate somebody different. Someone we can tell the American public that no longer do we need to look to Washington, D.C. You need to look to a leader who believes in you."
It seems to me Santorum is trying to be that leader in Washington, D.C. who wants to be another king who gets to tell people they need to turn to God for their rights rather than their own hearts and minds. How he will form government policy on the basis of what a god says, rather than what experts with backgrounds in science say, is not clear. But that's the way of these religious candidates. If you vote for one of them you are being fooled, as Abraham Lincoln said.
"You can fool some of the people all of the time, and all of the people some of the time, but you can not fool all of the people all of the time."
Like the British Rock band sang, "we won't get fooled again."
Click here to see more photos from the event
© 2012 – 2016, Glynn Wilson. All rights reserved.