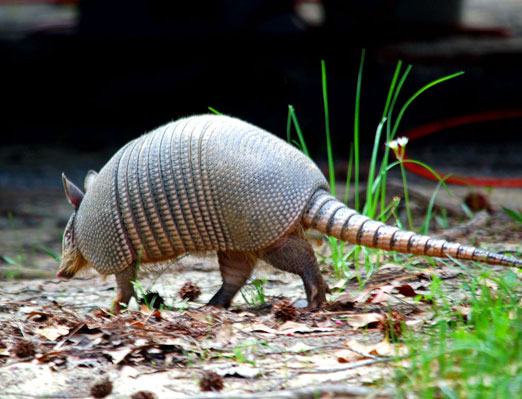 Glynn Wilson
An armadillo, all the way from Texas, paid us a visit at the campsite
Secret Vistas
by Glynn Wilson
CAMP GUNTER HILL, Ala., March 9 — You know, when I published the first column in this space nearly seven years ago in Takoma Park, Maryland, I never thought I would find myself back in Montgomery Alabama. Nor did I foresee the Republican take over of all three branches of government in my home state — while the people either slept, failed to organize sufficiently, or went right along with it as if it was "THE WAY" written in the book of Genesis.
Anyone who likes the direction this state government in Alabama is going is either brain-washed or not paying attention. Those who have an eye and can see say we are witnessing the last great Confederate gasp of white male plantation-style spoils politics. Technology and demographic data from opinion polls shows on the national level we have already moved beyond that to a more merit-based democratic world.
It will just take a few more years down here in Alabamaland.
So I feel almost like I felt back in D.C. going after the Bush regime. It was in some ways scarier along the Potomac River. The Bush security forces were organized against the left. We have some relief from that now, thanks to the election of Barack Obama as president in 2008. Around here, what's left of the Klan is too embedded in the Republican power structure to be disgruntled enough to commit high profile death threats and actions.
But I have a feeling Bentley and Co. are about to be in for a series of shockers that will have them reeling in their sleep in their old age.
On this weeklong trip to Selma and back and forth to Montgomery, after Googling around, calling around and driving around looking, I finally found the perfect campground to navigate coverage of the events in Montgomery. Since we are still on the reluctant Civil War theme, for a few more years, we will call it an encampment to take on the evil forces aligned against workers, women, minorities and anybody else who doesn't go to church on Sunday and vote Republican.

This is NOT Christianity folks, any more than the radical suicide bombers are truly Muslim.
Jesus said we don't need a church to get to God. Thomas Jefferson said government derives its rights from the people, not the church. Hugo Black said there should be a "high and impregnable wall" separating church and state. He said it from an Alabama Baptist perspective. Look it up.
Judge Roy Moore just has it all wrong.
While most of the campgrounds around Montgomery are nothing more than RV parking lots, there is a little known Corps of Engineers campground on County Road 7 called Gunter Hill Campground. From now on, to borrow a little historical language from the Civil War days, this place will be referred to in news story datelines as Camp Gunter Hill.
While I was chasing the news down from Selma to Montgomery and publishing as many photos and videos of the marches and rallies as time and the Internet connection speed would allow, I tried to find the time and space to reflect a little on the past 47 years.
I could not help but be aware of the strife over civil rights in the mid-'60s. Living in the suburbs of Bomingham.
We stopped going downtown.
I started back in my teens, however, and shopped for $2 Converse PF Flyers in all colors, mostly red, on Second Avenue. Then Ludwig drums at the old Alabama Music on Fourth.
My good friend Spider Martin was right in the thick of the action in 1965, but we would not meet until 20 years later, on Southside in 1986.
In fact, this was my first time to cover the march commemoration. But of course, it was not so much a commemoration of winning the right to vote this year since the right to vote for many is under assault.
Selma March No Celebration of the Right to Vote This Year
But it was great to be in the middle of such dedicated, intelligent folks who know we can make a difference over the long haul, even if some battles are lost today. Bad laws can be overturned, over time. Bad policies can be reversed.
The best thing you can do to keep yourself in the struggle — and this is my secret behind Secret Vistas, y'all — is to find a place in nature and make a cup of coffee, sit by a small wood fire and look out over the water for awhile. Whether it's an ocean, a mighty river or a mountain lake, get next to it and dig in.
Listen to the birds sing. Watch them fish and play in the water.
Give yourself something for the head, whatever tonic you choose. Dig on it.
It's where you came from.
Scenes From Gunter Hill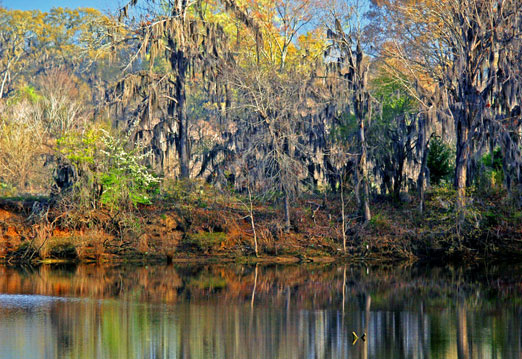 Glynn Wilson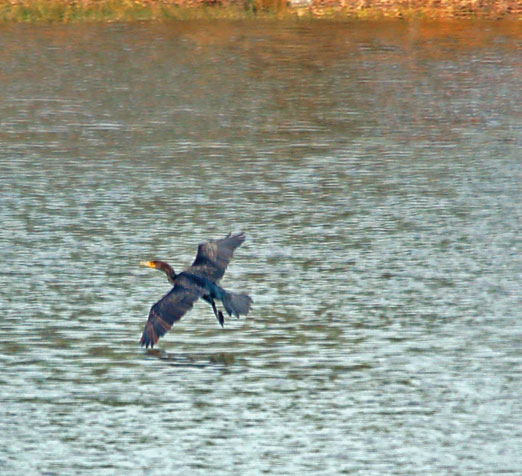 Glynn Wilson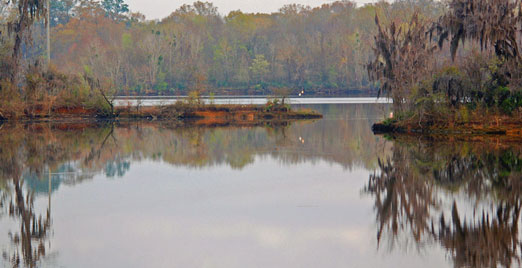 Glynn Wilson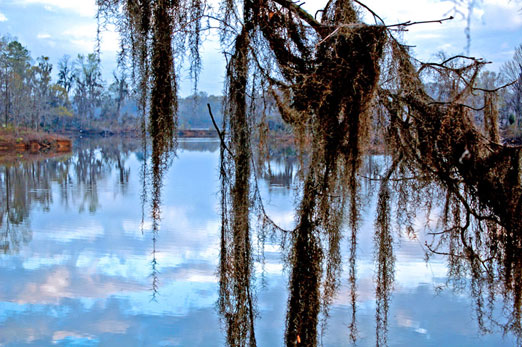 Glynn Wilson
© 2012 – 2016, Glynn Wilson. All rights reserved.