by Glynn Wlson
BIRMINGHAM, Ala. — U.S. Senator Richard Shelby, a Republican from Tuscaloosa who used to be a Democrat, was recently featured in a Washington Post investigative series about how members of Congress for many years have used their public positions for personal gain.
Everybody in the sixth congressional district has most likely heard about the ongoing congressional ethics investigation of Congressman Spencer Bachus, who was exposed for "insider trading" by the CBS investigative show "60 Minutes."
But what many people in Alabama have probably not found out about, unless they are readers of The Locust Fork News-Journal since we published the links to the stories prominently on our front page, is that the Washington Post recently did an investigative series which featured Shelby on how members of congress fund projects near their personal properties from federal tax money sent back to their home state as "earmarks."
Here's how the newspaper led its coverage.
A U.S. senator from Alabama directed more than $100 million in federal earmarks to renovate downtown Tuscaloosa near his own commercial office building….


Thirty-three members of Congress have directed more than $300 million in earmarks and other spending provisions to dozens of public projects that are next to or within about two miles of the lawmakers' own property, according to a Washington Post investigation.

Under the ethics rules Congress has written for itself, this is both legal and undisclosed.

The Post analyzed public records on the holdings of all 535 members and compared them with earmarks members had sought for pet projects, most of them since 2008. The process uncovered appropriations for work in close proximity to commercial and residential real estate owned by the lawmakers or their family members. The review also found 16 lawmakers who sent tax dollars to companies, colleges or community programs where their spouses, children or parents work as salaried employees or serve on boards.

In recent weeks, lawmakers have acknowledged the public's growing concern that they appeared to be using their positions to enrich themselves. In response, the Senate last week passed legislation that would require lawmakers to disclose mortgages for their residences. The bill, known as the Stop Trading on Congressional Knowledge (Stock) Act, would also require lawmakers and executive branch officials to disclose securities trades of more than $1,000 every 30 days. At the same time, the Senate defeated an amendment, 59-40, that would have permanently outlawed earmarks.

Earmarks have long been controversial, with the focus on spending that unduly favors campaign donors or constituents. The Post's review is the first systematic effort to examine the alignment of earmarks with lawmakers' private interests.

Earmarks are a fraction of the federal budget, and the numbers uncovered by The Post are relatively small in the scheme of the overall Congress, but the behavior by lawmakers from both parties points to a larger issue at a time when confidence in Capitol Hill is at an all-time low.

Shelby has earmarked more than $100 million toward rebuilding downtown Tuscaloosa, Ala., where he owns an office building. The street in front of the building will be redone as part of phase two of the project.
The Post ran Shelby's denials, which you can read in their coverage, but they also ran this video to support their investigation: Video: Mapping Richard Shelby's Earmarks.
We linked to these stories on the news front page the day they were published on the Web, but when I found out Senator Shelby was going to be in downtown Birmingham Tuesday for his annual town hall meeting in Jefferson County, I decided to show up and check out the program and ask a question to get the Senator's side of the story in person.
As it turned out, I was the only reporter in the room, since not one single news organization in Birmingham deemed the visit newsworthy, even though it is likely the only chance the citizens of Jefferson County will have access to the Senator in public for an entire year — unless they are major campaign donors, of course.
You can watch me asking the tough question and see his response in the video above, or at this link on YouTube.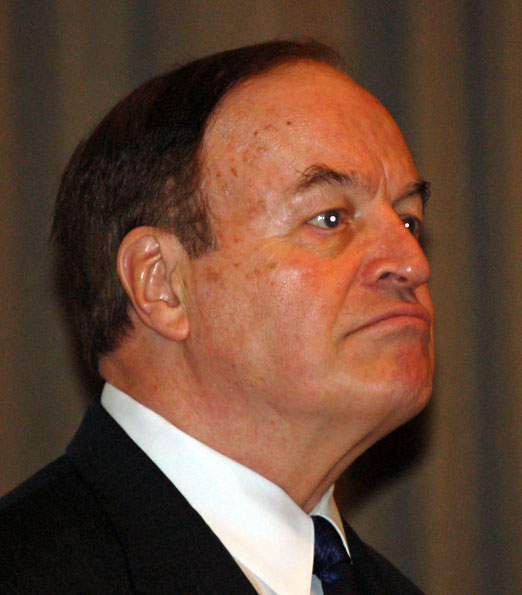 Glynn Wilson
Alabama's Conservative Republican Senator Richard Shelby addresses the Kiwanis Club in Birmingham
© 2012 – 2016, Glynn Wilson. All rights reserved.