Opponents Say Unfair Anti-Immigration Law Must by Repealed
MONTGOMERY, Ala. — Several hundred protesters filled the courtyard outside Alabama's Statehouse on Valentine's Day in a "One Heart One Alabama" rally aimed at convincing lawmakers to love one another rather than hate their Latin brother. Opponents don't want the controversial anti-immigration law "tweaked" as legislators have promised since alleged "unintended consequences" drove away new industry from creating jobs in the state. They want the law repealed, as the Obama Justice Department is still suing to have it overturned in federal court.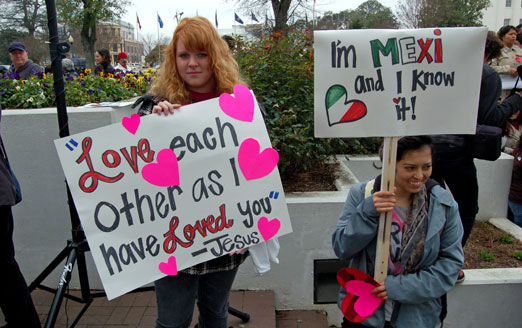 Glynn Wilson
Protesters delivered lollipops and Valentines to lawmakers, urging them to strike down the law. They carried signs with messages such as "Gov. Bentley, don't you have a heart?" and "No Juan Crow," along with "Una Familia, Una Alabama," all while chanting in English and Spanish, "no more HB56" and "one family, one Alabama."
Marching for America Event Planned March 4-9

From March 4 through 9, the protesters will join the annual anniversary re-enactment of the Selma to Montgomery march. According to a flier put out to promote the event by the AFL-CIO, the American South was a battlefield in 1965
"The wealthy elite sought to block rights and a voice in society for a segment of the population. Nowhere was this battle uglier than in Alabama over the basic right to vote," according to the group. ""Today, 47 years later, many states have launched an all-out coordinated assault on our democracy by attacking workers' rights, voting rights, public education and comprehensive immigration reform. In 1965, the Selma to Montgomery March made history and changed America. In 2012, we march again … for the 99%. History will be on our side."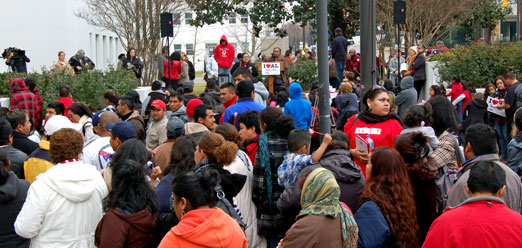 Glynn Wilson
© 2012 – 2016, Glynn Wilson. All rights reserved.