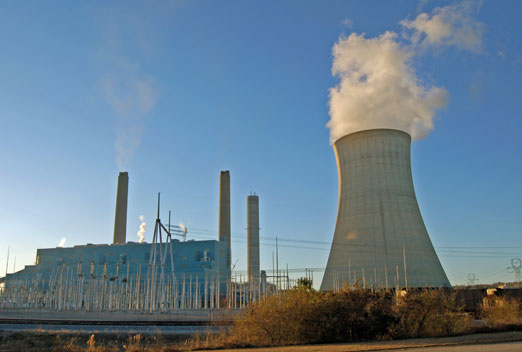 Glynn Wilson
Alabama Power's Miller Steam Plant on the Locust Fork River emits more mercury into the air than any other power plant in the country.
by Glynn Wilson
Much anticipated national standards limiting the output of mercury and other toxic air pollutants from the nation's power plants were unveiled on Wednesday by the U.S. Environmental Protection Agency.
The Mercury and Air Toxics Standards, the first national standards designed to protect American families from power plant emissions of mercury and toxic air pollution like arsenic, acid gas, nickel, selenium, and cyanide, will slash emissions of these dangerous pollutants by relying on widely available, proven pollution controls that are already in use at more than half of the nation's coal-fired power plants, according to an EPA press release announcing the decision.
The long-delayed final standards have been the subject of a ferocious lobbying battle pitting environmental groups against industry lobbyists, and the unveiling of the standards is being hailed as a victory for environmental groups, some of which are still recovering from the bitter disappointment of the White House's decision to delay new air pollution regulations.
EPA estimates that the new safeguards will prevent as many as 11,000 premature deaths and 4,700 heart attacks a year. The standards will also help America's children grow up healthier – preventing 130,000 cases of childhood asthma symptoms and about 6,300 fewer cases of acute bronchitis among children each year.
"By cutting emissions that are linked to developmental disorders and respiratory illnesses like asthma, these standards represent a major victory for clean air and public health –- and especially for the health of our children. With these standards that were two decades in the making, EPA is rounding out a year of incredible progress on clean air in America with another action that will benefit the American people for years to come," EPA Administrator Lisa P. Jackson said in a statement. "The Mercury and Air Toxics Standards will protect millions of families and children from harmful and costly air pollution and provide the American people with health benefits that far outweigh the costs of compliance."

While some industry lobbyists are still trying to argue that the rules will harm the economy, force the closure of coal-fired power plants and threaten the reliability of the country's power grid, scientists and environmental groups are celebrating the decision, while some unions are anticipating a host of new jobs that will be created with the implementation of the new rules. That includes UA Local 91 in Birmingham, Alabama.
A Landmark Accomplishment
While Frank O'Donnell of Clean Air Watch said his group has not had a chance to scrutinize all aspects of the new rules, he said at the outset that it is a landmark accomplishment by the Obama administraiton.
"This is truly history in the making," he said. "After more than two decades of delay, dirty coal-fired power plants are going to be cleaned up in short order. The dirty, soot-spewing coal plant will soon become a relic of the past – a dirty industrial dinosaur."
The EPA action ensures that the cleanup of coal-fired power plants will be the signature clean-air achievement of the Obama administration, he said, and these standards complement the first cleanup phase embodied in EPA's so-called Cross-State rule.
"In our opinion, these standards combined are more significant than the laudable vehicle fuel economy standards because cleaning up dirty power plants translates directly into massive health benefits," O'Donnell said. "Americans everywhere will breathe easier – and will find fish safer to eat."
He indicated that the EPA bent over backwards to accommodate concerns about electric reliability, but to understand how really positive the announcement is, he said, "one only need listen to the squeals coming from cleanup opponents. They lost this one."
It has been alleged that the prior Bush administration issued the "first-ever" mercury standards for power plants, but that's not the case, he said.
"Those of you who have been around will recall that the Bush EPA issued a more industry friendly cap-and-trade scheme calling for a reduction in the overall national amount of mercury from power plants over a very protracted timetable. Some analysts projected that the overall emissions would be reduced by about 69-70 percent, but not until 2026," he said. "Even then, many plants would have avoided any mercury emission controls."
Oh, and by the way, he said, a federal appeals court tossed out the Bush plan as "obviously illegal," since it did not require all power plants to meet a standard.
"In any event," he said, "the standards issued today will require much more cleanup much more quickly than the weak Bush approach."
Some of the projected costs and benefits in the standards are both lower than those projected in EPA's March proposal, a result of events since the standards were first proposed, including the TVA agreement to clean up the massive, multi-billion dollar coal ash spill in the Clinch River in Tennessee.
Health Benefits
Albert A. Rizzo, MD, national volunteer chair of the American Lung Association, and pulmonary and critical care physician in Newark, Delaware, praised the new standards.
"Since toxic air pollution from power plants can make people sick and cut lives short, the new Mercury and Air Toxics Standards are a huge victory for public health," Rizzo said. "The Lung Association expects all oil and coal-fired power plants to act now to protect all Americans, especially our children, from the health risks imposed by these dangerous air pollutants."
More than 20 years ago, a bipartisan Congress passed the 1990 Clean Air Act Amendments and mandated that EPA require control of toxic air pollutants including mercury. To meet this requirement, EPA officials say the agency worked extensively with stakeholders, including industry, to minimize cost and maximize flexibilities in these final standards.
There were more than 900,000 public comments that helped inform the final standards announced Wednesday. Part of this feedback encouraged the agency to ensure the standards focused on readily available and widely deployed pollution control technologies, that are not only manufactured by companies in the United States, but also support short-term and long-term jobs.
In other words, the Obama administration listened to scientists, business people and the public, and worked those recommendations into the regulations. The Bush administration, on the other hand, held secret meetings with industry lobbyists and let them write the cap-and-trade standards that were thrown out by the federal courts.
Creating Good Jobs
EPA estimates that manufacturing, engineering, installing and maintaining the pollution controls to meet these standards will provide employment for thousands, potentially including 46,000 short-term construction jobs and 8,000 long-term utility jobs. Many of those will be high-paying, union jobs.
Power plants are the largest remaining source of several toxic air pollutants, including mercury, arsenic, cyanide, and a range of other dangerous pollutants, and are responsible for half of the mercury and over 75 percent of the acid gas emissions in the U.S. More than half of all coal-fired power plants already deploy pollution control technologies that will help them meet these achievable standards, although companies such as Southern Company, who have banked on fighting government regulations by donating a massive amount of money to Republican candidates, may have to go back to the drawing board and re-think its energy production strategy in the South.
Once final, these standards will level the playing field across the country, according to EPA, by ensuring the remaining plants — about 40 percent of all coal fired power plants — take similar steps to decrease dangerous pollutants.
As part of the commitment to maximize flexibilities under the law, the standards are accompanied by a Presidential Memorandum that directs EPA to use tools provided in the Clean Air Act to implement the Mercury and Air Toxics Standards in a cost-effective manner that ensures electric reliability. This has been one of the stated concerns of industry, and has been used as a political tool by the Republicans to fight government regulations.
Under these standards, for instance, EPA is not only providing the standard three years for compliance, but also encouraging permitting authorities to make a fourth year broadly available for technology installations. If still more time is needed, the new rules provide a well-defined pathway to address any localized reliability problems should they arise.
Mercury has been shown to harm the nervous systems of children exposed in the womb, impairing thinking, learning and early development. Other pollutants that will be reduced by these standards can cause cancer, premature death, heart disease, and asthma.
The standards, which are being issued in response to a court-ordered deadline, are in keeping with President Obama's Executive Order on regulatory reform. They are based on the latest data and provide industry significant flexibility in implementation through a phased-in approach and use of already existing technologies.
Benefits Outweigh Costs
The standards also ensure that public health and economic benefits far outweigh costs of implementation, according to the agency, which estimates that for every dollar spent to reduce pollution from power plants, the American public will see up to $9 in health benefits. As a result, the total health and economic benefits of this standard are estimated to be as much as $90 billion annually.
"The Mercury and Air Toxics Standards and the final Cross-State Air Pollution Rule, which was issued earlier this year, are the most significant steps to clean up pollution from power plant smokestacks since the Acid Rain Program of the 1990s," the agency says.
Combined, the two rules are estimated to prevent up to 46,000 premature deaths, 540,000 asthma attacks among children, 24,500 emergency room visits and hospital admissions. The two programs are an investment in public health that will provide a total of up to $380 billion in return to American families in the form of longer, healthier lives and reduced health care costs.
For more information see this on EPA's Website.
Also watch the video below.
About half the coal-fired power plants across the nation were built more than 40 years ago and have never installed advanced pollution control technology. Right now there are no national limits on how much mercury and other air toxics those facilities can put into the air. Pollutants from power plants can cause serious health problems like asthma attacks and heart attacks. That's why EPA has new Mercury and Air Toxics Standards to help protect our communities and our children's health and development by reducing power plant pollutants using widely available technology — technology that can be made by American companies, and installed by American workers. The standards will save thousands of lives. It's an important advance for clean air and a healthier future for all Americans, as well as a job creator for American workers.
© 2011 – 2016, Glynn Wilson. All rights reserved.