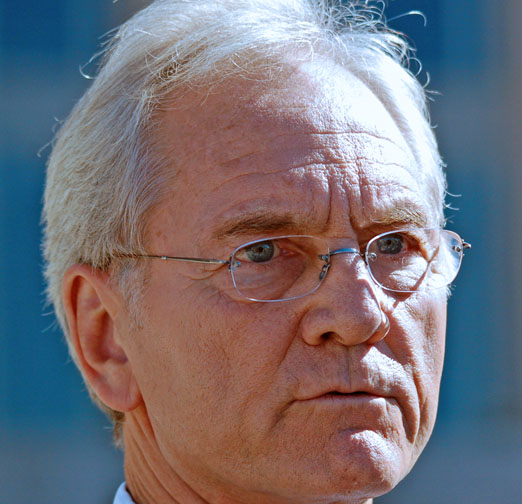 Glynn Wilson
Former Alabama Governor Don Siegelman outside the federal courthouse in Montgomery
by Glynn Wilson
MONTGOMERY, Ala. — Former Alabama Governor Don Siegelman says if he is guilty of bribery and corruption for being the fourth governor to appoint HealthSouth founder Richard Scrushy to a hospital regulatory board — in his case allegedly in exchange for contributions to an education lottery campaign — then Texas Governor Rick Perry could be "executed" for what he has done in that state.
Mr. Siegelman made the comment after a hearing on Wednesday requesting more information from the federal government to form the basis of an evidence gathering proceeding that could lead to a new trial for himself and Scrushy.
"If they can put me in prison for nine months for being the fourth governor to reappoint Richard Scrushy, they ought to be able to execute Rick Perry for what he did in Texas," Siegelman said (see video below).
"There is a standard of justice that should apply across the board and I think the United States Supreme Court will see that and will apply the rule of law in this case," Siegelman said, talking to the media in front of the federal courthouse in Montgomery after a three hour hearing before U.S. Magistrate Judge Charles S. Coody. "Rick Perry would be in prison today if this were the standard."

He said the standard was changed in his case by the Bush Justice Department, because prior to his conviction in 2007, there had to be evidence of an explicit agreement for the courts to issue a conviction for bribery.
In his case, Siegelman said, "There was no evidence of an explicit agreement."
Mr. Siegelman said if his conviction is allowed to stand, "every other governor and Bush and Obama too, and their contributors, could be subject to prosecution."
He said the ruling in his case has already created a deterrent, or a "chilling effect" on the political process. People are going to stop contributing or politicians would have to start voting against their contributors, he said. "It turns the political system on its head and makes no sense."
During the hearing, attorneys for Siegelman and Scrushy went back and forth with a Justice Department lawyer on two main issues before the court. Defense counsel are seeking a ruling from the judge to force the team of prosecuting U.S. attorneys to turn over more documents related to claims of "selective prosecution" and "judicial misconduct."
Siegelman, a Democrat, has claimed all along that the case was brought against him to knock him out of the governor's race against Republican Bob Riley in 2006, and there is much evidence to support that claim.
Many cases around the country were dismissed by appeals courts and even dropped by the Justice Department during the Bush years because it was shown that the Bush administration unconstitutionally used the court system as a political tool to win elections, directed by political operative Karl Rove out of the White House, even though the judicial branch of government in the U.S. is supposed to remain as isolated as possible from politics.
In Siegelman's case, the initial investigation against him was orchestrated by U.S. Attorney Leura Canary, a Bush appointee who was married to a paid operative for Bob Riley, Bill Canary, the head of what is widely known as the "conservative" Business Council of Alabama. It is a pro-big business, anti-labor state chamber of commerce.
When confronted by lawyers making that claim back in 2001 and 2002, Ms. Canary issued a press release claiming to excuse or "recuse" herself from prosecuting the case once it came to trial.
But defense attorneys obtained documents after the trial was over, including e-mail messages between the prosecution team, demonstrating that Ms. Canary was involved in personnel and financial decisions in the case, as well as an e-mail from her suggesting that the court put Mr. Siegelman under a "gag order" so he could not talk the media.
Defense attorneys also argued that the prosecutors and members of the U.S. Marshall's Service appeared to be guilty of "judicial misconduct" for inappropriate contact and communications with jurors, and that Chief U.S. District Judge Mark Fuller acted inappropriately in his handling of that information when it was brought to his attention.
Judge Coody seemed skeptical that the evidence rose to the level of "prosecutorial misconduct," but he also came down hard on the U.S. attorneys for not providing all the information to the defense team in a timely manner. According to knowledgeable courtroom sources, Coody has a reputation as a "fair" judge, and he seemed both knowledgable about the issues and the documents in the case and he listened to and challenged both sides.
When interviewed outside the courthouse after the hearing, however, Mr. Siegelman did not seem optimistic that he will be granted a new trial from the federal court in Montgomery. He indicated it will be up to the U.S. Supreme Court to resolve the case.
"The Supreme Court has got to resolve this issue. They cannot let my ruling stand as is," he said. "This is not the law in the United States."
Related Coverage
© 2011 – 2016, Glynn Wilson. All rights reserved.