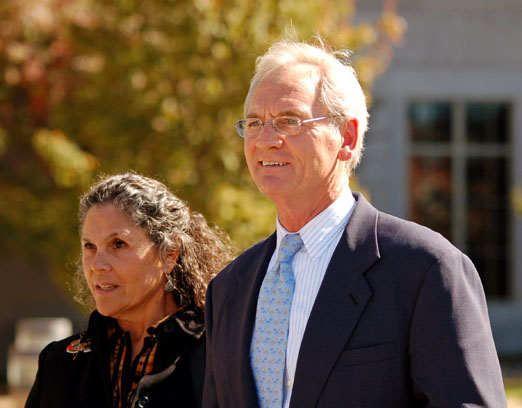 Glynn Wilson
Lori and Don Siegelman stand together outside the federal courthouse in Montgomery, Alabama, after a hearing on alleged "selective prosecution" and "judicial misconduct" in his case that traces its roots back to the late 1990s, when political operative Karl Rove was making a name for himself in the campaign world in Alabama.

In Siegelman's e-mails he sends out to supporters and the press periodically, Siegelman points out that Rove first attacked Siegelman on the Bill O'Reilly Show on Fox News in March, 1999, about the time the first state investigation of the governor was being put together by former state Attorney General Bill Pryor, a Republican later appointed by President Bush to the Eleventh U.S. Circuit Court of Appeals in Atlanta.
Here's the advance story on Wednesday's hearing.
Former Alabama Governor Don Siegelman Back in Federal Court
A full story about what happened Wednesday, with video and more photos, is in the works for Thursday.
© 2011 – 2016, Glynn Wilson. All rights reserved.