by Glynn Wilson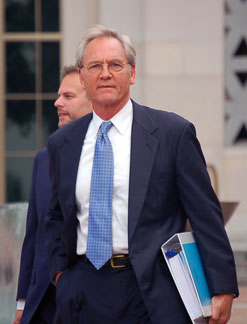 Glynn Wilson
Former Alabama Governor Don Siegelman in front of the federal courthouse in Montgomery on a break from his sentencing hearing in June, 2007.
Former Alabama Governor Don Siegelman will be back in federal court in Montgomery again Wednesday, this time making an oral argument before a different federal judge asking for a chance to be heard on issues related to "selective prosecution" and "government misconduct" in the handling of his case.
In an exclusive interview Tuesday morning, Siegelman, a Democrat, told me his attorneys will be making an argument that former U.S. Attorney Leura Canary — the wife of Bill Canary, head of the conservative Business Council of Alabama — had a partisan conflict of interest in bringing the alleged bribery and corruption case against him.
They will be revealing documentary evidence that Ms. Canary never actually recused herself from the case, he said, an issue we have reported on extensively in the past. She recused herself on the pages of the Birmingham News, but never actually filed a formal recusal document with the court, and e-mail messages show she was involved in directing the prosecution team even after she claimed to recuse herself.
Evidence will also be presented about judicial misconduct on the part of Chief U.S. District Judge Mark E. Fuller, who handled the case against Siegelman. Because of that, Siegelman said, Fuller will not be hearing the evidence on Wednesday. Instead, U.S. Magistrate Judge Charles S. Coody will be presiding.
Siegelman sent an e-mail message to supporters on Monday urging members of the public to show up for the hearing
"It's open to the public, so if you can come, please do," Siegelman said. "It just might help, and besides, I could use some friends right now."
Siegelman said his attorneys have been asking for the government to produce documents which they have had in their possession since 2001, documents he says "will prove that while the U.S. attorney was preparing my indictment, her husband was being paid by my opponent, and that later the U.S. attorney's husband ran my opponent's campaign against me while I was brought to trial one month before the election in 2006."
Mr. Canary was heavily involved in Republican Bob Riley's campaign for governor.

"We have been asking the Department of Justice to turn over documents or make the local prosecutors give us these documents which we should have had at trial," Siegelman said. "These documents prove selective prosecution, government misconduct, and show that witnesses were coached as to how they were to testify and other very serious misconduct by local prosecutors."
Siegelman was convicted and sentenced to prison in 2007 for alleged bribery along with HealthSouth founder Richard Scrushy for Scrushy's contributions totaling $500,000 to pay off the debt on an education lottery campaign Siegelman promised voters when he was elected governor in 1998.
But he was released on appeal bond in 2008, and we have covered every detail of the case more than any other news organization or so-called "blogger" in the country. If you are just learning about this news Website, and want to know the truth about the Siegelman case, check out our extensive archives on the subject.
Siegelman said he was not sure if any other mainstream media outlet in Alabama would be there to cover the proceedings Wednesday, but The Locust Fork News-Journal will be there. We will have a full report as soon as possible after the hearing concludes, and that will include a video interview with Mr. Siegelman.
Related News
Scrushy was just turned down on a motion that he be released from federal prison on appeal bond.
Chief U.S. District Judge Mark Fuller rejected Scrushy's request that he immediately be released from prison, according to the AP, arguing that he has already served more than four years of his almost 7-year sentence. The request said his sentence is likely to be reduced further because a federal appeals court dropped two counts against him. The date for a new sentencing hearing has not been set in that case.
But according to AP, Fuller said that even with the dropped charges, Scrushy's remaining sentence is within federal sentencing guidelines.
According to the Birmingham Business Journal, officials at the Beaumont Federal Correctional Complex have recommended that Scrushy be released in Dec. 2012.
Scrushy would be moved to home confinement at that time. He was initially scheduled to be released in June 2013.
© 2011 – 2016, Glynn Wilson. All rights reserved.