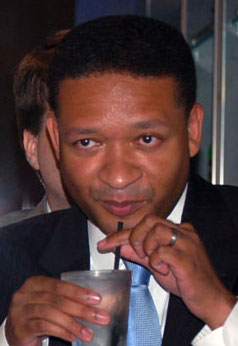 Glynn Wilson
Artur Davis sucking on a cocktail in Homewood
by Glynn Wilson
Former Alabama Congressman Artur Davis is a sore loser with questionable judgment, according to former state Supreme Court Justice Mark Kennedy, now head of the Alabama Democratic Party.
Davis, who held the congressional seat covering much of Birmingham, Tuscaloosa and the Black Belt as a Democrat for eight years before jumping into a losing run for governor, is now making the rounds of conservative blogs bashing the Democratic Party and making all kinds of wild accusations. Apparently this is an attempt to make himself famous and switch to the Republican Party to run for office again, perhaps the U.S. Senate seat held by Richard Shelby of Tuscaloosa.
"It calls into question his judgment," Kennedy said in an exclusive interview. "Only after being soundly defeated and repudiated by his constituent base does he now come out and continuously attack the system that he was actively a participant in."
Kennedy said he wishes Artur would have been as proactive in advocating for working families and the poor while he was in Congress "as he is now being proactive in attempting to grab headlines."
"I don't understand what his deal is," Kennedy said. "He's now going to be remembered, by many of us, as a man who has repudiated his party. He continues to make these allegations but refuses to provide proof, I guess all because he's a sore loser."
For a man who desired to be the first African-American governor of Alabama, which would have been a historic event, to make a campaign contribution to the Republican nominee for governor in Mississippi who was running against a qualified African-American Democrat, he said, "Just crosses the line with me."

"It calls into question everything that I thought Artur Davis stood for, " Kennedy said. "I wish him well and I hope he's successful in his law practice representing corporations and big business. But it seems to me that he's forgotten his roots and he's certainly forsaken all of us here in Alabama."
© 2011 – 2016, Glynn Wilson. All rights reserved.