by Glynn Wilson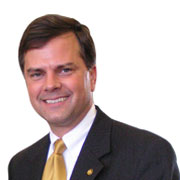 Sen. Arthur Orr
Well, it's official. Now that they think they have run all the Mexicans out of Alabama, the tea party Republicans are going to try to bring back the convict-lease system of slave labor to the state. The national and local backlash over the state's draconian immigration law was apparently not enough.
Conservative Senator Arthur Orr, a Republican from Decatur, has prefiled a bill for the next session of the Alabama Legislature in February that would make it legal for private companies to hire prisoners to work on farms and chicken processing plants and even in manufacturing industries.
"There was probably no issue in the 20th century that has left a more negative, lasting impression of Alabama than the convict-lease system," Historian and author Dr. Wayne Flynt said in an exclusive interview. "If Orr and Scott Beason decided that they had not done enough damage to the state already with the anti-immigration law, and they wanted to ratchet up the damage, to extend it and expand it and make Alabama even more the laughing stock of the nation, creating a convict-lease system in Alabama would just be a great idea."
Under existing law, the employment of prisoners within the Department of Corrections facilities by private industry is not authorized, according to language in the bill. The proposed law would specifically authorize the Department of Corrections to enter into contract agreements with private industry "to establish work-oriented rehabilitation programs."

In order to implement work-oriented rehabilitation programs in an actual private enterprise work environment, the Commissioner of the Department of Corrections "may contract or enter into agreements with private individuals, enterprises, partnerships, or corporations to develop joint plants, businesses, factories, or commercial enterprises," according to the proposed law. "The contracts or agreements shall be limited to those in which the department contracts or agrees to furnish inmate labor for the manufacture of articles or products."
Dr. Flynt and Al Henley, president of the AFL-CIO, said if the law were passed and signed by the governor, it would allow corporations to use convicts instead of unemployed workers in Alabama who desperately need jobs in this depressed economy, where unemployment is running at 9 percent.
"Any time you have convicts working they are competing with free labor," Flynt said. "Probably the most compelling argument you have against this is that you are turning from illegal immigrants taking jobs away from Alabamians so that now you are going to have convicts taking jobs away from Alabamians."
Henley pointed out that even Republican presidential front runner Newt Gingrich came out in a recent debate against the tea party's anti-immigration policy, saying the GOP should not adopt a platform on immigration that "destroys families that have been here a quarter-century."
"We have not seen a single job created in Alabama by this anti-immigration bill, and now they want to bring back the convict-lease system in this state? That is just crazy," Henley said. "The people better get together and fight this if they want to do something about the economy and unemployment in this state."
Dr. Flynt said if Governor Robert Bentley and the tea party Republicans are correct and people in the state are lining up to take jobs formerly done by undocumented workers, "why would you need to do this anyway?"
The truth is, he said, no one can find a single example of a job that has been created for an Alabama worker by the anti-immigration law.
"It doesn't surprise me, anything the Republicans would do in the Alabama Legislature," Dr. Flynt said.
He pointed out that the most recent book on the convict-lease system was called Slavery By Another Name.
The corrupt system funded state government in the early days, according to historians, by turning a state expenditure for building prisons and housing inmates and turning it into a source of revenue. By 1920, 20 percent of state revenue came from the convict-lease system, Dr. Flynt said.
"Why limit it to poultry plants?" he asked. "Why not let them work in the Mercedes-Benz plants? At Alabama Power company? I mean, there are just no end to the possibilities of raising money that way. That's so many people you don't have to pay to stay in prison."
The downside of it, he said, was the death rate among working males. Those between the ages of 18-40 died at a rate of more than 10 percent a year.
"There was no need to care for people being rented out to private industry," he said.
© 2011, Glynn Wilson. All rights reserved.