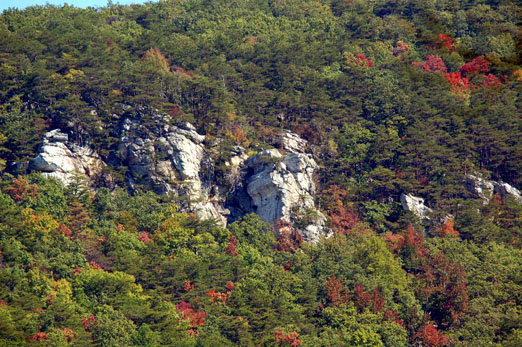 Glynn Wilson
This is the view of Cheaha Mountain, the highest point in Alabama, in the Cheaha State Park from our campsite in Campground No. 2. There are the beginnings of autumn color here, mainly some reds in the dogwoods.
The winds were gusting so hard this morning there was no way to put the boat in the lake, so we found a more secluded site down lower and we're checking the map for more photo opportunities this afternoon. The yellow-jackets are all over the place up here, so if you are allergic to bee stings, stay away. Otherwise, it is a nice fall day here on the mountaintop.
This foothill of the Appalachian Mountains rises 2,407 feet above sea level and is surrounded by the Talladega National Forest. The local Creek Indians named this place "Chaha," meaning high place.
We have dubbed the ridge we are camping on, "Yellow-Jacket Ridge." They really should do something about the bees. Too many to count.
© 2011 – 2016, Glynn Wilson. All rights reserved.