by Glynn Wilson
A record-high 50 percent of Americans now say the use of marijuana should be legalized, according to the latest Gallup poll on the subject, just as the Obama administration appears to be preparing a new Justice Department crackdown on medical marijuana.
This could be the wrong policy direction for a president who is now campaigning for a second term and will need as much of the Democratic base as possible to show up at the polls next November, along with a high number of independents and young voters, who favor legalizing marijuana overwhelmingly. If half of America's 313 million people now favor legalizing marijuana, especially Democrats, independents and the young, then perhaps the administration should rethink its policy push.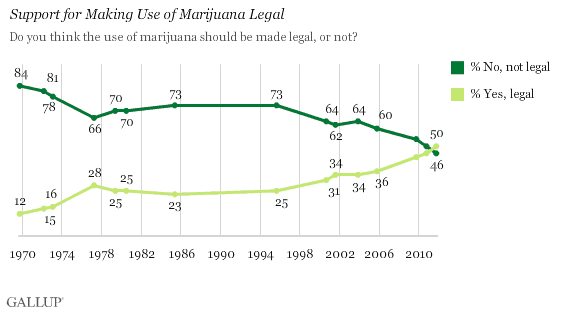 The 50 percent number, up from 46 percent last year, is a record high on this question since Gallup first began asking it in 1969, when 12 percent of Americans favored it and 84 percent opposed. Support for legalizing marijuana remained in the mid-20 percent range from the late 1970s to the mid-1990s, but it has continued to creep up ever since, passing 30 percent in 2000 and 40 percent in 2009 when, on the campaign trail, Barack Obama pledged to deemphasize federal enforcement against state programs to legalize medical marijuana.
A Gallup survey last year found that 70 percent favored making it legal for doctors to prescribe marijuana in order to reduce pain and suffering. Americans have consistently been more likely to favor the use of marijuana for medicinal purposes than to favor its legalization generally.

Young Americans Most Favor Legalizing Marijuana
Support for legalizing marijuana is directly and inversely proportional to age, ranging from 62 percent approval among those 18 to 29 down to 31 percent among those 65 and older. Liberals are twice as likely as conservatives to favor legalizing marijuana. And Democrats and independents are more likely to be in favor than are Republicans.
More men than women support legalizing it. Those in the West and Midwest are more likely to favor it than those in the South.
The advocacy group National Organization for the Reform of Marijuana Laws claims that marijuana is the third-most-popular recreational drug in America, behind only alcohol and tobacco. Some states have decriminalized marijuana's use, some have made it legal for medicinal use, and some officials, including former U.S. Surgeon General Joycelyn Elders, have called for legalizing its use.
According to the National Institute on Drug Abuse, "Marijuana is the most commonly abused illicit drug in the United States." The National Survey on Drug Use and Health in 2009 found that "16.7 million Americans aged 12 or older used marijuana at least once in the month prior to being surveyed, an increase over the rates reported in all years between 2002 and 2008."
Bottom Line
"Support for legalizing marijuana has been increasing over the past several years, rising to 50 percent today — the highest on record," according to Gallup. "If this current trend on legalizing marijuana continues, pressure may build to bring the nation's laws into compliance with the people's wishes."
Survey Methods
Results for this Gallup poll are based on telephone interviews conducted Oct. 6-9, 2011, with a random sample of 1,005 adults, aged 18 and older, living in all 50 U.S. states and the District of Columbia. For results based on the total sample of national adults, one can say with 95 percent confidence that the maximum margin of sampling error is plus or minus 4 percentage points.
© 2011, Glynn Wilson. All rights reserved.