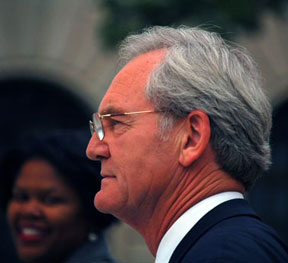 Glynn Wilson
Former Alabama Gov. Don Siegelman in front of the federal courthouse in Montgomery
by Glynn Wilson
A federal appeals court panel threw out two more counts in the bribery conviction of former Alabama Governor Don Siegelman and HealthSouth founder Richard Scrushy on Tuesday, according to a decision just posted on the U.S. Eleventh Circuit Court of Appeals Website.
The court let stand five counts against Siegelman and four counts against Scrushy, however. While the two dropped counts will reduce the length of Scrushy's sentence, Siegelman could still face re-sentencing, if his other legal maneuvers fail.
After reconsidering its previous decision on the order of the U.S. Supreme Court in light of a high court ruling questioning the use of honest services mail fraud in federal prosecutions, the three judge panel agreed there was not enough evidence of a quid pro quo to uphold the larger bribery conviction alleged by federal prosecutors.
U.S. attorneys in Montgomery obtained a conviction in the case largely based on a payment Scrushy made to help pay off a debt for an education lottery campaign, allegedly in exchange for a seat on the state's hospital regulatory board.
Siegelman was elected in 1998 in large part because of his campaign to pass an education lottery much like the one in Georgia, where students are given Hope scholarships to attend college. When it came to a vote of the people, however, it was defeated, in large measure due to anti-gambling political forces funded by out of state gambling interests.
Prosecutors alleged that Scrushy's payment of $500,000 to help pay off the debt for promoting the education lottery was made in exchange for an appointment to a seat on the hospital oversight board, but Siegelman's attorneys pointed out that Scrushy had served on that board under other governors, Democrats and Republicans.

In light of the Supreme Court's ruling questioning the over use of the vague honest services mail fraud law in Skilling v. United States, in which the court said an explicit quid pro quo must be proved for a conviction to stand, the appeals court in this case ruled that Siegelman was not guilty of such a tit-for-tat bribery scheme involving any "self-dealing" on Scrushy's part on how he used his position on the so-called Certificate of Need or CON board. There was no "pay-to-play" bribery in the larger "conspiracy" alleged by the prosectors, the three-judge panel ruled.
Siegelman still has a pending appeal for a re-trial in Montgomery before the same Republican judge who oversaw his conviction, Chief U.S. District Judge Mark E. Fuller, who was given a lifetime appointment to the bench by former President George W. Bush. Siegelman also still has a pending motion for Fuller to recuse himself in the re-sentencing.
In today's ruling, however, the three judge panel — all three appointed by Republican presidents — saw no evidence to uphold the contention of a conflict of interest on Fuller's part on the basis of his majority ownership of federal aviation contractors. That could impact Fuller's decision on whether to recuse himself and decide whether to send Siegelman back to prison to complete the remaining time on his sentence.
Reacting to the ruling, one of Siegelman's attorneys, Sam Heldman, told a reporter for a Birmingham newspaper that the case would be appealed once again all the way to the U.S. Supreme Court.
"I'm disappointed in the ruling, but we will continue to fight until we have complete exoneration and a correct understanding of the law," Heldman said.
Bruce S. Rogow, one of Scrushy's attorneys, said Scrushy could get out of prison soon if his sentence is reduced, indicating he was pleased the court dismissed two of the charges.
"It's a step in the right direction," Rogow said. "Now we just need to take a larger step. We're looking forward to seeking Supreme Court review to try to vacate the rest of the charges."
In an e-mail message to supporters, Siegelman said the appeals court "failed to reverse my flawed, politically-motivated prosecution — even in light of the U.S. Supreme Court's ruling that says, in short, that political contributions in and of themselves aren't bribery."
He vowed not to give up, because he believes the law is on his side, and says he's spent more than $2 million fighting the charges, "leaving my family and me on the verge of bankruptcy."
"Let me be clear: I was never bribed. I never solicited a bribe. I never broke the law," Siegelman said. "In fact, I was never accused of taking a single penny. I was the fourth Governor of Alabama to appoint this same man (Richard Scrushy) to this same non-paying board, and that's the crux of the prosecution's case."
"This was a partisan witch-hunt, pure and simple, cooked up by Karl Rove and the Republican Party to try to put me away for good because they disagree with my politics," Siegelman said. "They couldn't beat me fair and square, so they targeted me with this politically-motivated, unfounded prosecution. They abused our system of justice and they abused the public trust."
While 91 former state Attorneys General said there is no crime in what he did, the U.S. Supreme Court has said there is no crime in giving or receiving a contribution and then doing something favorable for the contributor if there was no deal, no explicit "quid pro quo."
"After all, if any politician who took action in accordance with the wishes of a supportive campaign contributor were prosecuted under the same standard I was, then Presidents Obama, Bush, and Clinton, every Member of Congress, every Governor, every Mayor, and every state legislator would be locked up," Siegelman said. "Political supporters who support good schools give to candidates who fund schools. Folks who want to reform health care give to politicians who fix our health care system. That's the basis of free speech in our country, the very foundation of our political system. It's not illegal, it's not bribery, and the U.S. Supreme Court agrees that it shouldn't be prosecuted."
© 2011 – 2016, Glynn Wilson. All rights reserved.