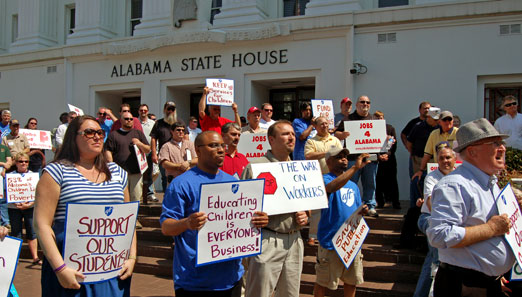 Glynn Wilson
Watch the videos from the rally here
by Glynn Wilson
MONTGOMERY, Ala. – Inspired by the massive worker protests in states like Wisconsin, Indiana, Michigan, Ohio and even Maryland, and not happy with the direction of the country or the state under new conservative Republican leadership in Congress and Legislatures around the country, union workers from across Alabama converged in front of the State House on Tuesday to show politicians the people will turn out and stand up for their rights.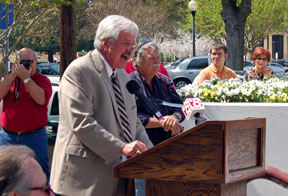 Al Henley, AFL-CIO
Joined by a contingent of lawmakers from the Democratic Party, unions leaders such as Al Henley of the AFL-CIO stood on the soap box in front of the building where legislators inside were passing a bill to end a popular retirement program and declared their intention to keep fighting the anti-labor Republican onslaught by standing up for working people and the middle class.
"This is what democracy looks like," Henley said to rousing applause from plumbers, teachers, electrical workers and communications workers. "We are union."
He said workers coming together may be the last, best defense for good middle class wages and benefits.
"These attacks are orchestrated nationwide, and it's all about politics," Henley said. "It's got nothing to do with economics."

It's about politicians giving their wealthy donors and corporate CEO's tax breaks, while they outsource jobs and cut wages and benefits for middle class workers, he said.
"That is so wrong," he said. "Their strategy is simple. Divide and conquer."
The politicians use wedge issues to divide workers from union leadership and support so-called right-to-work laws created by "big business" to weaken worker rights, which Henley said unions call "the right to work for less."
"CEOs already have too much influence over politicians," Henley said. "Unions stand as a check on corporate greed and give average working people a voice."
Henley acknowledged that there is a budget crisis, but he wonders why the lawmakers don't stop going after public workers and turn to an obvious source of revenue, tax loopholes for corporations.
"There are over 1,000 corporations in the state of Alabama that made over $1.5 billion and paid no taxes," Henley said. "If there's a financial problem let's share the pain. I have not seen any effort to share the pain. We pay our fair share. Let the rich and powerful pay theirs."
The median household income in the state is already $10,000 a year less than the national average, Henley said, while over the past 10 years, he said: "Our government gave $50 million to Wal-mart. We ought to be charging them $50 million to be in our fine state."
A number of Democrats in the Legislature introduced themselves to the crowd and said a few words (you can see them all in the video linked here). In speaking up for union workers, Senator Hank Sanders of Selma said his mother used to say that in every dark cloud there is a silver lining.
"We have a dark cloud hanging over this State House," Sanders said, talking about the anti-worker attitude on the part of the new Republican majority inside. It's a dark cloud to prevent the people from seeing the sunlight of employment and the benefits of government, he said. The silver lining is that the dark cloud has inspired people to show up and stand up.
"You are part of that silver lining," he told the union workers. "When you decide to stand up it makes a difference."
House Minority Leader Craig Ford, D-Gadsden, a retired steelworker and state president of the state AFL-CIO Retirees Council, pointed out that not one of the Republicans who replaced Democrats in November showed up to speak at the rally, even though they took control of the Legislature in November for the first time in 136 years.
"They've been in control for four months. Have you had enough yet?" he asked. "By god I have. That pendulum is swinging back to our side and it's time we took back over this state. It's time for the working class and the middle class to be heard."
Former federal judge Mark Kennedy, the new chairman of the state Democratic Party, closed out the rally before key union members went inside to lobby the legislature for the labor cause.
Kennedy said members of the Democratic Party will never turn their backs, "publicly or privately," on members of organized labor.
"You are the backbone of what makes our party great," he said. "We walk beside you, not in front of you or behind you. We want to build a better Alabama, not on the backs of the working class, but in partnership with the working class."
He acknowledged that some union members sometimes tend to vote for Republicans "for whatever reason," he said. "But we are going to take back this state one voter at a time."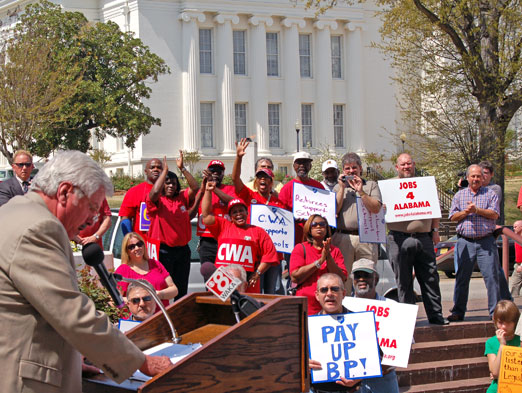 Glynn Wilson
Alabama AFL-CIO's Al Henley speaks to union workers outside the State House
Watch the videos from the rally here
© 2011 – 2016, Glynn Wilson. All rights reserved.