Hint: The Conservative South is Less Happy Than the Rest of the Country
The Big Picture
by Glynn Wilson
Only in America, a country founded on the ideals of "life, liberty and the pursuit of happiness," is there a statistical measure of "well-being" where highly paid social scientists spend a lot of time and money trying to figure out just how happy we are as a people.
Unfortunately, we don't have data from July 4, 1776 to gauge how we compare with our ancestors on that score. There were no pollsters in those days, and only a few newspapers and a primitive voting system to gauge public opinion.
There are some important lessons to be drawn from such measures of public opinion, however, if you look deeper than the basic numbers.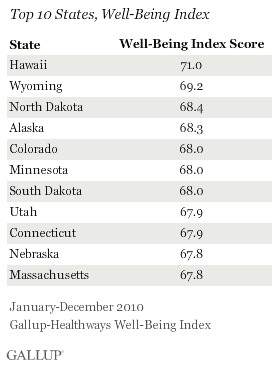 It should come as no real shock that the happiest people in the happiest state in the country live in Hawaii, a dreamy set of tropical islands where the climate is wonderful all year around, the unemployment rate is only 6.3 percent (compared to 8.9 percent nationally) and only 8 percent of the population is uninsured (compared to 17 percent nationally).
According to the latest Gallup well being scores, the people of Hawaii expressed the highest wellbeing among states with a score of 71 out of 100.
It is sort of sad, when you think about it, that even in the happiest state of them all, the score is only a C on any standard academic report card. The country as a whole only averages a D score of 66 percent on Gallup's well-being index.
Was there ever a time when the country was closer to being 100 percent happy? Maybe in the 1960s or the 1990s, times when the economy was booming and the future looked bright? Unfortunately, Gallup was not conducting these polls then, so we will never know.
As I sit here sipping my coffee and pouring over the data this Sunday morning, I'm wondering what it would take to improve these scores? There are some clues in the numbers. More on that in the end.

What we know now is that people seem happiest in Hawaii, Wyoming, North Dakota, Alaska, Colorado, Minnesota, South Dakota, Utah, Connecticut, Nebraska and Massachusetts, the top 10 states, while the saddest people live mostly in the South, in West Virginia, Kentucky, Mississippi, Arkansas, Alabama, and Louisiana, along with the states that round out the bottom 10 states, Ohio, Delaware, Nevada and Michigan.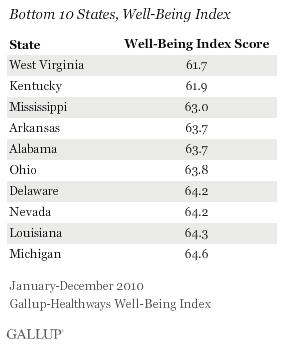 "Ten Southern states have a Well-Being Index score that puts them in the lower range wellbeing group. There are also more states in the South with wellbeing scores in the lower range than there are throughout the rest of the country," Gallup concludes. "Nevada, which is influenced by the poor wellbeing in Las Vegas, is the only Western state with a lower range wellbeing score."
Hawaii placed first in wellbeing in part because people scored it high in the categories of "life evaluation, emotional health and physical health," according to Gallup. "West Virginia took last place in wellbeing because of the opposite: The state was the worst performing on the same three sub-indexes. Delaware residents continue to report the worst work environments in the country, while those living in South Dakota are the most positive about their work situations."
Vermont still boasts the best overall health habits in America, and Kentucky continues to have the worst, according to Gallup. While Massachusetts residents have the best access to necessities crucial to high wellbeing, "Mississippi residents again have the worst," according to Gallup, "with a score on this index even lower than it was in 2009."
Gallup's Bottom Line
"Improving wellbeing scores will be a challenge for leaders as many states have been facing and continue to encounter significant fiscal problems, including having to close public schools, lay off or cut salaries of public workers, and cut back on public services — all of which have the potential to affect different aspects of wellbeing," Gallup concludes. "Although money is tight, finding ways to increase residents' access to good jobs and to basic necessities — including medical care in particular — and decrease costly, chronic conditions such as obesity and diabetes will be the most likely means to improve wellbeing."
At a time when state and local governments are challenged with being able to provide basic services, Gallup strangely suggests that "business leaders may be able to step in and play an important role in increasing wellbeing in their communities, which is good for business," since the polling outfit concludes that "higher wellbeing means lower healthcare costs and greater economic growth."
Further Analysis
While Gallup's analysis reveals a tinge of anti-government bias, not unlike the population it measures, realists understand that the government has an important role to play both in investing to improve the economy and in taking up the slack in health care where private, for-profit corporations seem more intent on maximizing profits and CEO pay than helping the country and its people to be healthier and happier.
Gallup's State of the States series reveals state-by-state differences on political and economic trends that effect wellbeing, and at a glance, it becomes clear that some of the more conservative or "red" states in the country are also some of the most unhappy.
So, what can be done to make the country a happier place? Two things seem obvious. Provide people with health care and improve the economy.
Remember, President Barack Obama is from Hawaii (not Kenya, as Southern Baptist preacher and presidential wannabe Mike Huckabee said on talk radio this week). So maybe the implementation of "Obamacare" would be a good thing for the nation's happiness, not a bad thing, as all those conservative Republicans in the U.S. House and governor's offices in some parts of the country would have you believe.
Then, as any respectable economist knows, the government is the lender and spender of last resort. So if government spending were focused in the right kinds of activities, like say the Civilian Conservation Corps or the Peace Corps, we might could get that measure of happiness moving up again.
The only reason we are even discussing the deficit now is because of the tea party movement, which is intent on destroying American happiness to discredit a Democratic president and get more conservative, Christian and/or corporate Republicans elected.
Let me suggest one other measure that would help improve our nation's happiness. Rather than attacking workers unions in this country, as Republican governor's are doing now in a number of states, perhaps unions should begin trying to increase their role in American life.
Union members tend to have higher wages and better health care coverage than non-union workers, so would it not behoove us to strengthen unions rather than working to gut them?
While we don't have enough public opinion data to accurately measure this, it is not hard to imagine that the country was happier overall in the 1950s, when union membership reached its peak in this country.
There is a lot of nostalgia still for the 1950s, when America was strong in the wake of the Allied victory in World War II when we even went through a massive Baby Boom. Do you think when more people are having sex and conceiving children that might be a good indicator of the health and happiness of a country?
Think about it.
About the Gallup-Healthways Well-Being Index
These state-level data are based on daily surveys conducted from January through December 2010. The Gallup-Healthways Well-Being Index is calculated on a scale of 0 to 100, where a score of 100 represents ideal wellbeing. Well-Being Index scores among states vary by a narrow range of 9.3 points. The Well-Being Index score for the nation was 66.8 in 2010.
The Gallup-Healthways Well-Being Index tracks U.S. wellbeing and provides best-in-class solutions for a healthier world. To learn more, please visit well-beingindex.com.
To view and export trend data and for more information on each of the six Gallup-Healthways Well-Being Index sub-indexes, please see the following charts: Well-Being Index, Life Evaluation Index, Emotional Health Index, Physical Health Index, Healthy Behavior Index, Work Environment Index, and Basic Access Index.
The Work Environment Index, one of six sub-components of the Gallup-Healthways Well-Being Index, includes four items: job satisfaction, ability to use one's strengths at work, supervisor's treatment (more like a boss or a partner), and is it an open and trusting work environment.
Survey Methods
Results are based on telephone interviews conducted as part of the Gallup-Healthways Well-Being Index survey Jan. 1-Dec. 31, 2010, with a random sample of 352,840 adults, aged 18 and older, living in all 50 U.S. states and the District of Columbia, selected using random-digit-dial sampling. For results based on the total sample of national adults, one can say with 95 percent confidence that the maximum margin of sampling error is plus or minus 1 percentage point.
© 2011 – 2015, Glynn Wilson. All rights reserved.