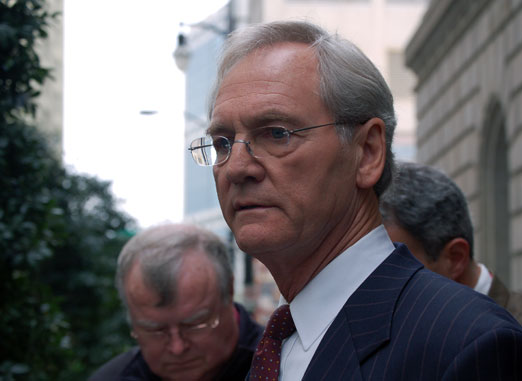 Glynn Wilson
Former Alabama Governor Don Siegelman outside the U.S. Court of Appeals building in downtown Atlanta.
by Glynn Wilson
Former Alabama Governor Don Siegelman will be back in court again on Wednesday, Jan. 19, this time before the same panel of Republican-appointed justices on the Eleventh U.S. Circuit Court of Appeals who upheld parts of his conviction in Atlanta two years ago.
But due to the age of the justices and the warmer climate closer to where two of them live, Siegelman said in a telephone interview this weekend, the next round of Siegelman's appeal will be heard in Jacksonville, Florida.
The U.S. Supreme Court vacated the convictions of Siegelman and former HealthSouth CEO Richard Scrushy back in June of last year and ordered the appeals court to review them again, in light of a recent high court ruling questioning the application of a vague honest services fraud law in the case of former Enron CEO Jeffrey Skilling.
"I believe that the U S Supreme Court vacated the earlier ruling of the Eleventh Circuit and sent my case back because the court wants a different result," Siegelman said. "That's good news for me."

Siegelman and his attorneys expect the three-judge appeals panel to drop the counts of honest services fraud remaining on his conviction, due to the Supreme Court's recent precedent-setting ruling. But they could still uphold the conviction on the remaining counts of bribery, conspiracy and obstruction of justice, Siegelman said. That would send the case back to the Supreme Court for review yet again.
"If I do not win," Siegelman said, "every governor, every member of Congress and Presidents Bush and Obama should be subject to prosecution."
He also urged followers of his case to keep in mind that there is still a motion for a new trial out there which lays open the government's misconduct in one of the most blatant political prosecutions of the Bush years, starting with the actions of former Bush political adviser Karl Rove and conservative Alabama Business Council president William "Bill" Canary. His wife was the U.S. attorney who first brought formal charges against Siegelman in Montgomery — not long after the former governor announced his decision to run against Bob Riley in the 2006 race.
Bill Canary is a long-time political associate of the Bush family, having worked for former president George H.W. Bush before taking over the business lobbying group in Alabama. He also worked for Riley's election. A replacement for the prosecutor, Laura Canary, was recently announced by the Obama administration. Attorney George Beck must face a confirmation hearing before the U.S. Senate before potentially taking over in Alabama's Middle District.
"We have a good legal strategy and are ready for the fight for the truth, and for justice," Siegelman said. "This is not just about me having to go back to prison for something that has never been a crime. It's about restoring justice and holding accountable those who misuse power for political purposes."
Meanwhile, U.S. District Judge Robert Hinkle, also in Florida — who was asked by Chief U.S. District Judge Mark Fuller in Montgomery to rule on the merits of a motion for him to recuse himself before he proceeds with ruling on a motion for a new trial — has indicated he will wait until the appeals court rules on the arguments Wednesday before he makes a decision.
Siegelman remains out of prison on appeal bond, while Scrushy is still serving time on his seven year conviction in the Montgomery case. Scrushy was acquitted in the Birmingham criminal trial for defrauding HealthSouth shareholders, but most of his considerable assets have now been liquidated due to a loss in the civil case.
Editor's Note: Locust Fork News-Journal editor and publisher Glynn Wilson wrote the definitive piece on Siegelman's case for The Nation magazine back in November, 2007, operating under a grant from The Nation Institute's Fund for Investigative Journalism. He also covered every development in this case on this independent news site. You can review the archives under the category Don Siegelman on Trial. Wilson also covered the Scrushy case in Birmingham for the New York Times. You can review the developments all the way back to that case in the archive Healthsouth's Richard Scrushy On Trial. It is our contention that the coverage here is more complete and professional than any newspaper, magazine or blogger in the state or country, and that includes the Associated Press and newspapers in Alabama, New York and Washington, D.C. The justice system in this country is supposed to be an oasis away from day to day politics in American life. When it is perverted for political purposes, justice cannot prevail.
Related Documents
Appeal Brief
Appeal Brief Response
Appeal Brief Supplement
Letter 1
Letter 2
© 2011 – 2016, Glynn Wilson. All rights reserved.