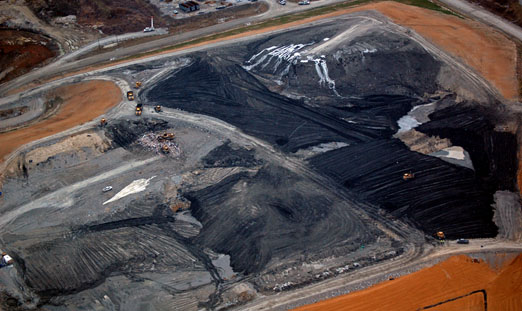 Glynn Wilson /
Southwings
A close view of the growing coal ash mountain in Perry County in Alabama's Black Belt
Air and water and in 34 states are being poisoned by the waste from coal-fired power plants — creating major health risks for children and adults, according to a report released this week by Earthjustice and Physicians for Social Responsibility.
The ground-breaking study connects the contamination occurring at hundreds of coal ash dumps and waste ponds across the country to health threats such as cancer, nerve damage and impairment of a child's ability to write, read and learn. Contaminants leaking or being emitted from these sites include arsenic, which causes skin, bladder and lung cancer; lead, which damages the nervous system; boron, which attacks the testes, kidney and brain; and mercury, a neurotoxicant particularly harmful to a child's development.
The report, Coal Ash: The Toxic Threat to Our Health and Environment follows a report issued last month, by Earthjustice and other environmental groups, that revealed 39 contaminated coal ash sites in 21 states. Together, the two studies confirm that at least 137 sites in 34 states are leaking a variety of toxic contaminants into nearby air and drinking water supplies, posing significant health threats to those who drink the water or breath in fugitive coal dust.
"These examples of coal ash leaks coupled with the report on the impacts to our health from ash's toxic pollutants paint a clear picture of the coal ash threat," the groups say in a press release announcing the study.

On Aug. 30, just a few miles from the groups' Washington D.C. office, the EPA held the first of eight public hearings on its plan to regulate coal ash waste ponds and dumps. Hundreds of activists from around the region and even as far away as Puerto Rico traveled to the nation's capital to testify.
"The message to the EPA was clear," according to the groups. "Coal ash is a threat to our health and we need federally enforceable safeguards that guarantee strong protections."
But there is still strong opposition from the polluters who will be forced to clean up decades of their coal ash mess, they say.
The coal companies and their lobbyists also showed up in DC, Denver, Dallas, Charlotte and Chicago to testify at EPA public hearings, consistently spreading "misinformation" and "doomsday predictions about what strong protections will do for their bottom line."
"They are throwing millions of dollars to high-paid lobbyists to pressure the EPA and Congress to pull back any attempt to finally clean up the coal ash mess," the groups say, but the public can still get involved to help turn things around.
Three public hearings remain where comments can make it on the record.
Sept. 21 in Pittsburgh, PA
Sept. 28 in Louisville, KY
Oct. 25 in Knoxville, TN
Related Coverage
Toxic TVA Coal Ash Mountain Grows in Black Belt
© 2010 – 2016, Glynn Wilson. All rights reserved.