The Big Picture
by Glynn Wilson
The political career of Birmingham Congressman Artur Davis is over.
Davis made a show out of trying to become Alabama's first black governor in one of the most bizarre and ridiculous political campaigns in the state's history.
"I have no interest in running for political office again," Davis told a reporter for a Birmingham newspaper. "The voters spoke in a very decisive way across every sector and in every section of the state. A candidate that fails across-the-board like that obviously needs to find something else productive to do with his life."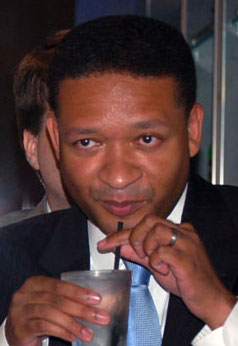 Glynn Wilson
Artur Davis sucking on a cocktail in Homewood
In the interview, Davis blamed himself for his loss. He was trounced by Agriculture Commissioner Ron Sparks 62 percent to 38 percent in the Democratic Primary on Tuesday, in spite of claiming a 30-point lead in the polls when he forced the governor's race to start early within days of President Barack Obama's 7-point victory in the presidential race in November, 2008.
Davis started running well before Christmas and began making political enemies right away by bypassing the state Democratic Party's committee system to choose judicial nomination recommendations to the Obama administration.
He made it clear from the outset that he had a different idea of how to run a campaign than Obama, his Harvard Law School cohort, and he proved to be an ineffective campaigner with no vision for the state's future.
Obama ran an aggressive progressive campaign utilizing a sophisticated Web site and e-mail alert system to reach out to supporters and raise money over the Internet. Not only did Davis never develop an impressive online presence, he refused to answer questions of real journalists working for the Web and instead tried to kiss up to inexperienced bloggers who sucked up to him instead of asking tough questions.
The Birmingham paper's analysis claims Davis had been praised as an orator, without sighting a single legitimate source to back up the claim.
In my own dealings with Davis, I found him to be an ineffective communicator who obviously learned his politics during his time in Congress in the Bush era, when Karl Rove could just write a sound bite and Bush would say it and his base would believe it to be true, in spite of no basis in fact for the assertion.
The Birmingham paper claimed to be shocked that Davis lost the black vote, but I had been predicting that outcome for more than a year when it became obvious early on that Davis was going after the white business crowd and shunning issues of concern to blacks and Democrats.

When he was the only black Democrat in Congress to vote against the national health care bill, that just focused everyone's attention on the fact that Davis was never on the side of progressive Democrats in Congress or in his race for governor.
Sen. Hank Sanders, the Selma Democrat who heads the New South Coalition, the political group set up in Birmingham back in the 1980s by former Birmingham Mayor Richard Arrington, fought hard to defeat Davis in part because of his vote on health care. But Sanders does not delight in Davis' downfall.
"You can't seek to become Alabama's first black governor despite the black vote. That was a mistake of stunning proportions," Sanders told the Birmingham paper. "Alabama should have long ago elected an African-American to statewide office and the tragedy of the Davis campaign is that he could have finally been the person to do it."
U.W. Clemon, appointed Alabama's first black federal judge by President Jimmy Carter, in October endorsed Davis "as my personal choice" for governor, according to the Birmingham paper. Clemon, now retired from the bench, called Davis the best qualified candidate to lead Alabama at a crucial time in its history.
But on Tuesday, Clemon cast his vote for Sparks, saying Davis' decision to vote no on the health care bill was a betrayal he could not ignore.
"I told Artur then that the only way he could be denied the nomination, the only thing he could do to give Joe (Reed, head of the Alabama Democratic Conference) a hammer to hit him with was to vote no on the health care bill," Clemon said. When he learned of the vote while watching the news on TV, he said, "I was stunned and I was disappointed. Artur walked away from the people."
In a perfunctory statement giving Sparks credit for winning, Davis told the Birmingham paper Sparks ran a "disciplined" campaign focused on legalizing and taxing gambling, and Davis claimed he did not respond as he should have to attacks. But that is just another lie. Davis did more attacking than Sparks did.
What cost Davis the election was his arrogant personality and his betrayal of issues of concern to voting Democrats. He thought he could fool enough of the people to win the primary, but it didn't work. His calculation that all the blacks in Alabama would vote for him because of his skin color, and his strategy to run as a conservative Democrat and thus have a chance to win in the general election, was flawed from the outset.
Davis told the Birmingham paper he planned to resume his career as a courtroom lawyer, and he denied the ridiculous rumor that he was being considered for an appointment as the U.S. attorney for the Middle District of Alabama in Montgomery. That's the post still occupied by Laure Canary, the wife of the head of Alabama's conservative Business Council with ties to the Bush family.
"I have no interest in any appointed position," Davis said, putting that rumor to rest.
His political career is over, and after the way he conducted himself in this campaign, I say good riddance. This campaign showed him to be an incompetent political analyst and an opportunist with no understanding or compassion for the people he was elected to Congress to represent.
He did nothing to represent the people of the Black Belt when they were being pelted with the pollution from coal ash after one of the worst environmental disasters in the nation's history. After a holding pond failed at TVA's coal-fired power plant at Kingston, Tennessee, during the Christmas holidays in 2008, Davis simply allowed local county commissioners to decide the issue. They opted to take millions in landfill tipping fees and allow the coal ash to be shipped by train to a landfill designed for household garbage.
Davis has had nothing to say about the worst environmental disaster in American history now making its way in the form of oil and chemicals onto the shores of Dauphin Island, an indication that he would have sided with corporations like BP instead of representing the people if he had been elected.
What the Democratic Party needs to remain competitive in Alabama are candidates with vision who can use modern technology and see into the future, and that includes a new energy and environmental future. The Republicans will get the votes of all the morons and the Tea Party gang, who would like to see this state and country regress back in time to a non-existant bygone era.
© 2010 – 2016, Glynn Wilson. All rights reserved.