Groovin' With her Band The Nocturnals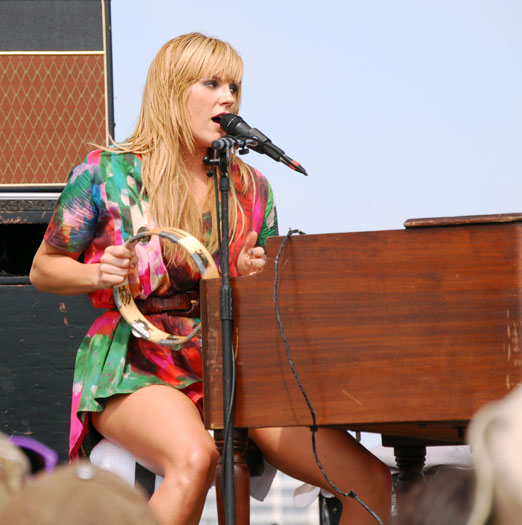 Glynn Wilson
[Click on the image for a photo essay]
by Glynn Wilson
GULF SHORES, Ala. — Grace Potter & The Nocturnals, a Vermont-based band that gained national attention in 2007 with the album "This Is Somewhere," rocked the crowd of about 15,000 Saturday with their blend of funky blues, soul and rock from the sixties and early '70s at the first Hangout Beach, Music and Arts Festival on the public beach.
Potter was part of four musicians and environmental activists who spoke to reporters midafternoon as part of the environmental bent the festival has taken on since the Gulf oil spill. Joining her were Gov't Mule frontman Warren Haynes; Erin Brockovich, who built a case against the Pacific Gas and Electric Company in 1993 that resulted in a $333 million settlement to victims of the utility's pollution; and Kathleen "Kick" Kennedy, with the Waterkeeper Alliance organization.
"I was blown away," Potter said after her set about the festival, going forward in spite of a massive, looming oil spill in the Gulf of Mexico just out of sight of the beach.
"I didn't know what to expect," she said. "I got on stage and I said, 'My God, it's Coachella on the beach.'"

Brokovich said everyone on the coast knows the value of what's here.
"Nobody needs to tell you that," she said. "It's absolutely beautiful, it's worth protecting and preserving."
Gov't Mule frontman Warren Haynes talked about the importance of volunteering. He's associated with former President Jimmy Carter's Habitat for Humanity, which among other things, has been helping to rebuild a musician's village in the Ninth Ward in New Orleans, destroyed by the Hurricane Katrina flood.
Hangout Festival Saturday news conference
Lots of great music to come on Sunday, and no oil in sight…
© 2010 – 2016, Glynn Wilson. All rights reserved.