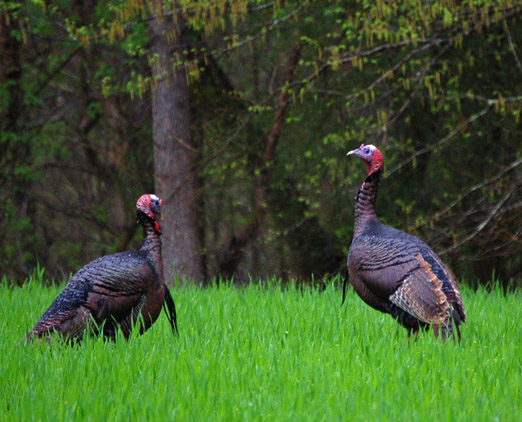 Glynn Wilson
Wild turkeys sneak through a grassy field in the rain at Oak Mountain State Park south of Birmingham, Alabama. The spring weather brought out the crowds to camp on Friday, but the rains came in from the east Saturday, just in time to cool things off for Easter Sunday. [Click on the image for a larger view]
Turns out there are an estimated 500,000 wild turkeys in Alabama.
The comeback of the wild turkey has been well documented, but worth repeating, according to Steven W. Barnett, a wildlife Biologist with the Alabama Division of Wildlife and Freshwater Fisheries, who wrote the following piece for Outdoor Alabama.

Status of the Wild Turkey Population in Alabama
In the early 1930s, the wild turkey was on the verge of extinction; however, early conservation movement visionaries turned the tide. By tapping into the remaining wild turkey population bastions, restocking programs were developed by state wildlife agencies to reintroduce wild turkeys back into their former range. Through restoration, protection, management, and research as well as state wildlife agency partnerships with organizations like the National Wild Turkey Federation (NWTF) and landowners, wild turkey numbers and habitat have been enhanced throughout the nation. The results of these ongoing efforts have brought wild turkey numbers from only 30,000 in the early 1900s to nearly 7 million today.
In Alabama, Department of Conservation and Natural Resources wildlife biologists recently estimated the statewide Eastern wild turkey population to number around 500,000.
This estimate is the highest ever recorded in the state. However, it must be stressed that this number is only an estimate and can vary greatly from year to year based on reproduction, survival, and habitat suitability factors. Nevertheless, the population trend has been upward in recent years.
The growth of wild turkey numbers in Alabama is also reflected in the harvest numbers. Based on the annual hunter mail survey over the past few seasons, the total combined fall and spring season harvests has been about 60,000 gobblers each year. This is one of the highest reported harvests in the nation for Eastern wild turkeys.
© 2010 – 2016, Glynn Wilson. All rights reserved.