Guess Who Showed Up?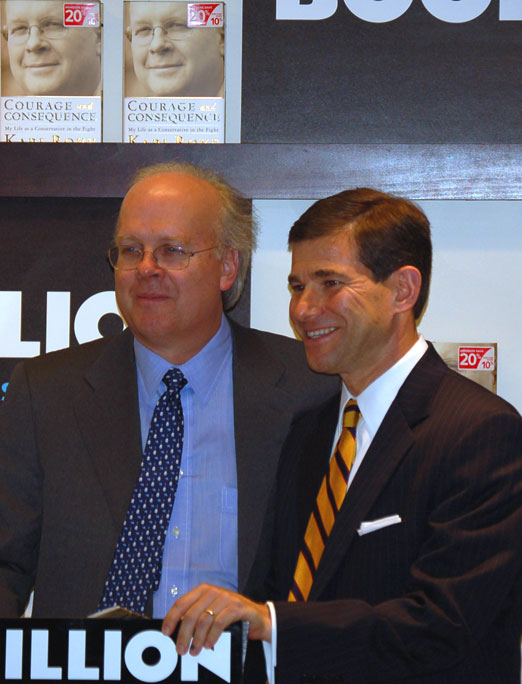 Glynn Wilson
by Glynn Wilson
About 20 people showed up at the Brookwood Mall Books-A-Million in Birmingham Tuesday to get a signed copy of former Bush political aide Karl Rove's book, Courage and Consequence, a memoir of his time in the White House designed to try and repair the legacy of a president some scholars are already calling about the worst in American history.
The most prominent person to show up for a signed copy was none other than William "Bill" Pryor, the former Alabama attorney general who first started trying to investigate then-Governor Don Siegelman in 1998.
As a political payoff, Bush appointed Pryor to a judgeship on the Eleventh U.S. Circuit Court of Appeals in Atlanta in 2004 while Congress was in recess, although he was later confirmed by the Senate after a deal was negotiated by Senator John McCain's "Gang of 14."
Yes, that's the same Bill Pryor Rove tried to deny knowing before the House Judiciary Committee, although Rove's political consulting company ran his campaign for attorney general in 1998. When Pryor walked up and Rove saw him, he smiled real big and said, "Hey, Bud!"
Outside the mall and across the street, about the same number of people, about 20 by my count, showed up to protest Rove's visit, sporting T-shirts with the slogan "Free Don Siegelman" and carrying signs indicating Rove is the real criminal who should be spending time in federal prison for his participation in high crimes and misdemeanors against the country and the Constitution by the administration of George W. Bush and Vice President Dick "Shotgun" Cheney.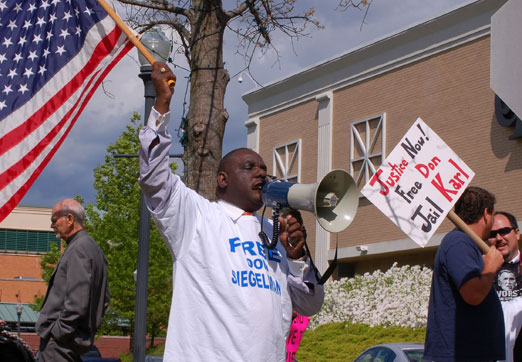 Glynn Wilson
Frank Mathews, a former radio talk show host and aide to jailed Birmingham Mayor Larry Langford, led the protest with his group the Outcast Voters League.
Inside, reporters were allowed to take pictures and ask questions for about 10 minutes before Rove started the book signing.

A broadcast reporter for WAKA in Montgomery asked a question about Siegelman and got a fairly lengthy non-answer from Rove, about the same thing he told the House Judiciary Committee and what he's said on TV before, denying any knowledge of the Siegelman prosecution and saying the former governor should make his claims under oath.
Siegelman is out of federal prison on an appeal bond awaiting word on a motion for a new trial in Montgomery and to find out whether the U.S. Supreme Court will take up the appeal.
When the broadcast reporters seemed to be out of questions, I jumped in and asked the final question that set Rove back on his heals and basically ended the press conference.
Since Rove once made the claim that as Bush's so-called "brain" and "architect" he would deliver an American majority to the Republican Party for "a generation," and since that didn't quite work out after he was forced to resign from the White House along with then-Attorney General Alberto Gonzalez in August, 2007, and since a black guy from Chicago named Barack Obama sort of stomped the Republican Party in the presidential election of 2008, I asked: "How does it feel to be an utter failure?"
Rove refused to answer the question.
When I identified myself as the editor and publisher of The Locust Fork News-Journal, Rove at first said, flippantly, "Never heard of it." Then he changed his response to, "Oh, yeah I have. That little Website."
Yeah, that little Website that got your ass fired from the White House for being the one to flesh out the Jill Simpson allegations here and in The Nation magazine.
[Those stories, by the way, were totally ignored by former
Mobile Press-Register
reporter Eddie Curran in his little book on Siegelman being circulated now without an editor or a publisher. A fan in Mobile sent me a copy the other day and I should have a critical review ready to go by the weekend].
Meanwhile, when I said to Rove, "You know, formerly with The New York Times," Rove muttered something like, "Yeah, here's what I think of the New York Times," and turned around and walked off…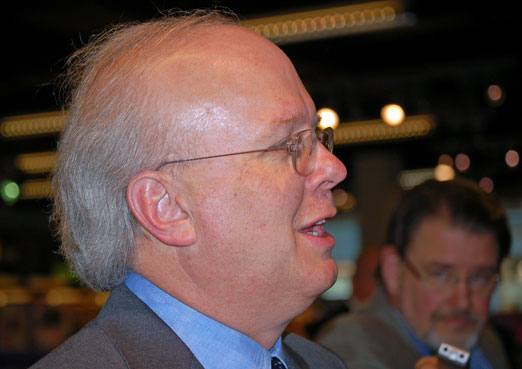 Glynn Wilson
Rove was scheduled to make an appearance later in the evening at The Club, a ritzy exclusive restaurant on Red Mountain looking out over Southside under the statue of Vulcan, for a Republican Party fund raiser.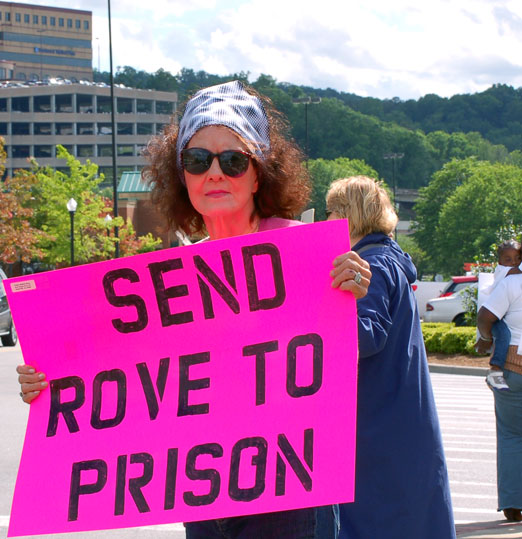 Glynn Wilson
The protesters showed up there too…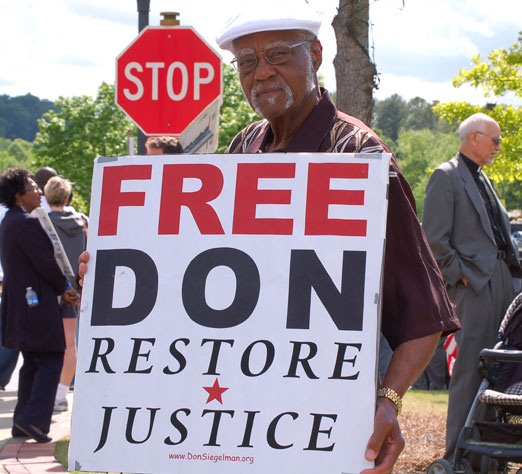 Glynn Wilson
© 2010 – 2016, Glynn Wilson. All rights reserved.