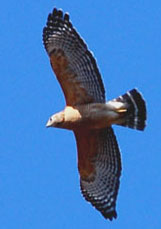 A man from Auburn, Kentucky, has been fined for poisoning hawks with pesticides, according to the U.S. Fish and Wildlife Service.
Freddy P. Jordon of Auburn, Kentucky, received a $5,000 fine for poisoning migratory birds, specifically red-tailed hawks and vultures, through the use of the pesticide Carbofuran, also known as Furadan, according to a press release sent out by the federal agency.
"Furadan is the most widely misused pesticide documented during wildlife poisoning investigations in the United States," said Jim Gale, Special Agent in-Charge of the U.S. Fish and Wildlife Service's Southeast Region. "During the past 10 years, Furadan has been documented in 26 investigations in Kentucky alone."
Jordan pleaded guilty and was sentenced on February 17, 2010, in U.S. District Court in Bowling Green, Kentucky. He admitted to placing Furadan on bait and distributing it on his property to kill predators.

Jordon was sentenced by U.S. Magistrate Judge E. Robert Goebel for
violations of the Migratory Bird Treaty Act (MBTA) and the Federal Insecticide, Fungicide, and Rodenticide Act (FIFRA).
An investigation began in January 2009, when Kentucky Department of Fish and Wildlife Resources Conservation Officer John Jackson received a report from hunters of numerous wildlife carcasses found on a Logan County farm.
The carcasses recovered during the investigation ranged from red-tailed hawks and vultures, to coyotes and foxes. Officers collected
22 animal carcasses and a container of Furadan from Jordon's farm.
Carbofuran, also known by its trade name of Furadan, is a pesticide which is regulated by the Environmental Protection Agency in its use and application.
Jordon admitted that he knowingly placed Furadan on his property in a
manner inconsistent with its labeling by lacing turkey carcasses with the pesticide to poison coyotes. The investigation revealed that migratory birds, three red-tailed hawks and three vultures, also were poisoned as a result of Jordon's actions.
The investigation was conducted by the Kentucky Department of Fish and Wildlife Resources, the U.S. Environmental Protection Agency, Criminal Investigations Division, and the U.S. Fish and Wildlife Service and the case was prosecuted by assistant U.S. attorney Randy Ream.
© 2010, Glynn Wilson. All rights reserved.