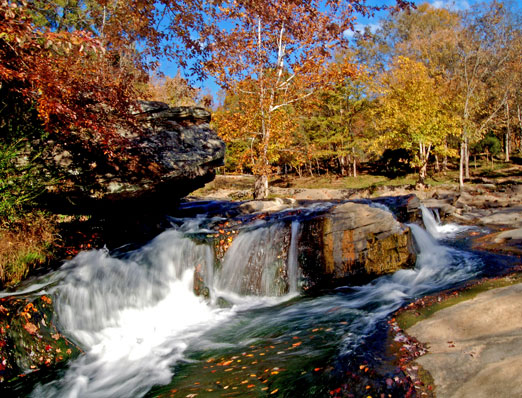 Glynn Wilson
Autumn on Turkey Creek falls near the Blount-Jefferson County line…
Fourteen Alabama environmental organizations filed a petition with the Environmental Protection Agency today to withdraw the state's authority over Alabama's water pollution permitting program because it does not meet the minimum requirements of the Clean Water Act, according to a press release issued Friday.
"The water pollution permitting program administered by the Alabama Department of Environmental Management (ADEM) is fundamentally broken and does not meet minimum federal standards," Alabama Rivers Alliance program director Mitch Reid said in the statement. "This failure is a systemic, statewide problem. From funding to implementation to enforcement, the failures of the current system are leaving the citizens and environment of Alabama unprotected."
The water pollution permitting program, known as the National Pollutant Discharge Elimination System (NPDES) is a part of the federal Clean Water Act. Each state is required to implement at least the minimum standards required in the federal law.
For more than a decade, environmental and citizen organizations have worked with state agency leaders to find ways to improve this program. When that failed, the petitioners sought relief through the Alabama Environmental Management Commission (EMC), a seven-member governing board of ADEM appointed by the Governor of Alabama. Solutions have also been sought, when necessary, in the courts.
While there have been modest gains on a few individual issues, the groups say, these have not addressed the substantial systemic failures of Alabama's water pollution permitting program.
"We have been very diligent in documenting the ongoing and chronic pollution sources, and ADEM has taken no effort to enforce even the most basic of regulations," said John Wathen, head of the Friends of Hurricane Creek based in Tuscaloosa.
The press release says Intervention by the federal agency is "the only relief left available to the environmental community to ensure the proper actions are taken to fix this defective program."

The petition initiates a legal process that is expected to engage EPA, ADEM, and all interested parties in developing concrete solutions to reform ADEM's water pollution permitting program.
ADEM spokesman Scott Hughes, responding to the petition in the Tuscaloosa News, said the agency's lawyers had yet to review the full petition, and he was unable to comment on its content But he said it was a complaint that ADEM intends to take seriously.
"We have received notice of the petition, and we will work closely with the EPA to address all allegations in the petition," he said. "We take very seriously, not only this petition, but the responsibility that we have to protect Alabama's land, air and water resources, on behalf of all Alabamians."
The goal of the petitioners is for Alabama's water pollution permitting program to meet or exceed minimum federal standards under the Clean Water Act in order to protect human health and the environment for the citizens of Alabama.
View the petition online at this link…
The Alabama Rivers Alliance, formed in 1997, is Alabama's statewide nonprofit river-protection organization. The non-profit group's mission is to protect Alabama's rivers through water quality and quantity policy advocacy, grassroots organizing, and the providing of information to citizens in order to achieve clean and healthy watershed ecosystems, healthy people, strong economies, and a functioning democratic system of government in Alabama.
List of Petitioners:
Alabama Rivers Alliance, Inc.
Cindy Lowry, Executive Director
2027 Second Avenue North, Suite A
Birmingham, Alabama 35203
Telephone: (205) 322-6395
alabamarivers.org
Friends of Hurricane Creek
John Wathen, Creekkeeper
P.O. Box 40836
Tuscaloosa, Alabama 35404
Telephone: (205) 507-0867
Conservation Alabama Foundation, Inc.
Adam Snyder, Executive Director
P.O. Box 130656
Birmingham, Alabama 35213-0656
Telephone: (205) 533-6178
conservationalabamafoundation.org
ADEM Reform Coalition
Adam Snyder, Co-Chair
Casi Callaway, Co-Chair
Choctawhatchee Riverkeeper, Inc.
Mike Mullen, Riverkeeper
P.O. Box 6734
Banks, Alabama 36005-6734
Telephone: (334) 807-1365
http://sites.google.com/site/chocrivkeeper/
Mobile Baykeeper, Inc.
Casi Callaway, Baykeeper Executive Director
300 Dauphin Street, Suite 200
Mobile, Alabama 36602
Phone: (251) 433-4229
mobilebaykeeper.org
Black Warrior Riverkeeper, Inc.
Nelson Brooke, Riverkeeper
712 37th Street South
Birmingham, Alabama 35222
Telephone: (205) 458-0095
BlackWarriorRiver.org
Cahaba Riverkeeper
Myra Crawford, Riverkeeper
4650 Old Looney Mill Road
Birmingham, Alabama 35243
Telephone (205) 967-2600
cahabariverkeeper.org
Coosa River Basin Initiative, Inc.
Joe Cook, Riverkeeper
408 Broad Street
Rome, Georgia 30161
Telephone: (706) 232-2724
coosa.org
Friends of the Locust Fork River
Sam Howell, President
P.O. Box 245
Hayden, Alabama 35079
Telephone: (205) 681-4751
www.flfr.org
The Friends of Big Canoe Creek
Doug Morrison
P.O. Box 10
Springville, AL 35146
Telephone: (205) 467-7620
Alabama Environmental Council
Michael Churchman, Executive Director
2431 Second Avenue North
Birmingham, Alabama 35203
Telephone: (205) 322-3126
www.aeconline.org
Sand Mountain Concerned Citizens, Inc.
Willard Jones, President
P.O. Box 428
Ider, Alabama 35765
Telephone: (256) 657-5704
The Sierra Club-Alabama Chapter
Robert W. Hastings, Vice Chair
141 North Northington Street
Prattville, Alabama 36067
Telephone: (334) 491-0780
http://alabama.sierraclub.org
© 2010 – 2016, Glynn Wilson. All rights reserved.