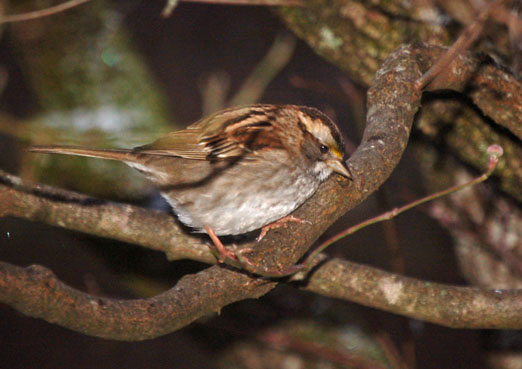 Glynn Wilson
A pair of white-throated sparrows [zonotrichia albicollis] make their home each winter under the shrubbery in our front yard near the bird bath by the dogwood tree. Normally they are content to eat the seeds that drop to the ground, but it has been so cold lately even these ground birds have competed with the chickadees, tit mice, nuthatches and cardinals for the sumptuous bird feed we put out. The temperature has not gone above freezing in a couple of weeks.
According to the Cornell Lab of Ornithology, the bird is known for its "crisp facial markings" as well as the "hopping, flying anatomy lesson it can give." There's the black eyestripe, the white crown and supercilium, the yellow lores, the white throat bordered by a black whisker, or malar stripe.
This one must be the female, since it has less color than the male.
They're also a great entrée into the world of birdsong, with their pretty, wavering whistle of Oh-sweet-canada. These forest sparrows breed mostly across Canada, but they're familiar winter birds across most of eastern and southern North America and California.
To listen to the call of the white-throated sparrow family that lives here, an original Locust Fork recording, click to listen on this MP3 file…
For more on the science of this species…

Size and Shape
The White-throated Sparrow is a large, full-bodied sparrow with a fairly prominent bill, rounded head, long legs, and long, narrow tail.
Color Pattern
White-throated Sparrows are brown above and gray below with a striking head pattern. The black-and-white-striped head is augmented by a bright white throat and yellow between the eye and the bill, which is gray. You'll also see a less boldly marked form, known as "tan-striped," with a buff-on-brown face pattern instead of white-on-black.
Behavior
White-throated Sparrows stay near the ground, scratching through leaves in search of food, often in flocks. You may see them low in bushes as well, particularly in spring when they eat fresh buds. White-throated Sparrows sing their distinctive songs frequently, even in winter.
*
Habitat
Look for White-throated Sparrows in woods, at forest edges, in the regrowth that follows logging or forest fires, at pond and bog edges, and in copses near treeline. In winter you can find these birds in thickets, overgrown fields, parks, and woodsy suburbs. They readily come to backyards for birdseed.
© 2010 – 2016, Glynn Wilson. All rights reserved.