The People Who Don't Want It Are Afraid of the Effects
by Glynn Wilson [Videos below]
UNIONTOWN, Ala. — The Rev. James R. Murdock sits on his porch with a view of the Arrowhead Landfill and wonders, watching the TVA coal ash train roll in.
Glynn Wilson
The Rev. James R. Murdock
Murdock is one of the original members of Concerned Citizens of Perry County, a group that lost a court fight to keep the landfill from opening — before they knew the coal ash would be shipped to their town dump. It was permitted to take garbage from 16 states, including New Jersey, and for that the chairman of the county commission of 18 years lost his seat.
Not in time for the people here who have to live with the landfill now, though, along with the effluent from the Southeastern Cheese factory, overflowing their lagoon sewer.
Murdock, a cancer survivor, is anxious about the toxic and radioactive coal ash rolling into town. It contains at least 14 different chemicals and heavy metals, including arsenic and lead. There are ways to recycle some coal ash, like putting it in concrete. But experts say this particular coal ash is some of the most toxic ever generated as a byproduct of burning some of the dirtiest coal to ever be mined for electric power. It has been piling up in East Tennessee since the 1960s. A member of Congress from Huntsville, a doctor, recently testified it was as deadly as nuclear waste.
Murdock and his group are concerned, but they don't know what they can do since the people elected to represent them have written them off. He worries the toxic ash will get airborne and pollute the very air he breaths every day, as well as the local drinking water supply.
Yet he wonders, aloud, if "there's even a point to fighting it anymore."

Robert Bamberg, a local cattleman who owns a number of catfish ponds and the BIP Fish Co., and who does a morning radio show in Uniontown, is worried the landfill will leak. He's afraid the coal ash will end up in the water table and contaminate his fish.
Glynn Wilson
The Selma chalk that is supposed to be impermeable actually cracks very easily…
He said fighting the landfill was a local thing. Now, with a "heavy hitter" like TVA coming on the scene, he said, "We really feel like we've been run over and thrown under a bus."
When TVA's mountain of dirty coal ash poured out of that holding pond in Kingston, Tennessee into the Emory River three days before Christmas last year, creating the second largest environmental catastrophe in U.S. history, the poor people of Alabama's Black Belt had no idea they would end up on the bad side of the waste stream. Chances are they didn't hear much about the disaster at all. The news was buried in the Christmas holiday blitz. There's not even a weekly newspaper to serve the estimated 11,000 people who make their home in Perry County, one of the poorest counties in the country where nearly 70 percent of the population is black — and 19 percent are unemployed.
While the area is known for its rich, fertile soil and at one time was in the heart of cotton country — many residents are the descendants of slaves — about the only industry surviving here now is catfish farming, plus a for-profit prison and one cheese factory. The timber-harvesting business has for the most part played out, since the hardwoods in the chalky soil have already been clear-cut. Cedar is the predominant species due to the Selma chalk, considered by some industry experts to be a safe place to bury hazardous waste.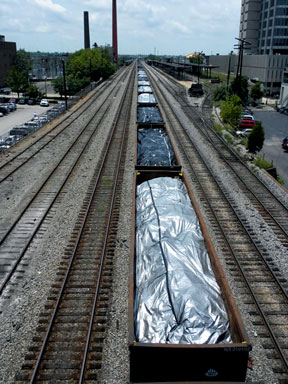 Michael Churchman
A freight train rolls through downtown Birmingham loaded with TVA coal ash from Tennessee…
When I broke the story back in March that the only thing holding TVA up from beginning its cleanup in Tennessee was a place to haul the coal ash after it was dredged from the riverbed, there was no hint the solution would involve hauling it by train right through downtown Birmingham to a landfill in Uniontown.
But that's exactly the plan the Tennessee Valley Authority came up with. The U.S. Environmental Protection Agency and the Alabama Department of Environmental Management have approved the permits, yet the residents of Perry County are none too happy about it. They fear for their health.
Uniontown is already under orders by ADEM to clean up its lagoon sewer system. In large measure due to discharges from the Southeastern Cheese factory, expert sources say, the lagoon is overflowing with raw sewage. It runs in the creeks of Perry County. You can see it and smell it from any bridge around.
Their elected representatives in the county and in Congress, Artur Davis of Birmingham, who is running for governor, are saying nothing against the TVA plan. When asked if the congressman had anything to say against what critics indicate is clearly a case of environmental racism and injustice, Davis's media spokesman shrugged his shoulders and said, simply, "The people want it."
Local sources say, however, that the only investigation Davis conducted into TVA's plan to ship the toxic coal ash into his district was to hold a conference call with county commissioners in the area. They are desperate for revenue sources to fill their empty coffers.
County Commissioner Albert Turner Jr., who did not put up a fight against the coal ash, told the Associated Press: "We're not desperate to the point that we would endanger the health and safety of our people. But we are desperate enough to know we should take a golden opportunity when we see one."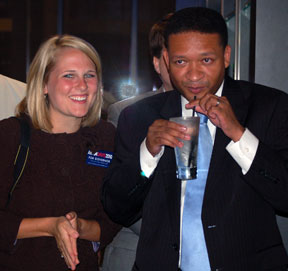 Glynn Wilson
Rep. Artur Davis with an aide at a recent party in Homewood…
The county will receive $3.5 million from the contract to bring in 3.5 million cubic yards of the toxic coal ash to the private landfill, set up in a suspicious land deal orchestrated by a New Jersey garbage syndicate. The landfill is not even permitted to handle hazardous waste. The money will come from a $1 a ton tipping fee. Somebody is paying two full-time, off-duty police officers to guard both entrances to the landfill, however, ostensibly to keep out vandals.
Experts say that much coal ash, estimated to be hauled in by about 85,000 rail cars, will likely fill up the landfill originally permitted to handle household garbage from 16-33 states.
Coal ash has not been regulated as a hazardous material before, although there is a push on to include it in EPA regs. That's why Southern Company, with coal fired power plants in Alabama, Georgia and Florida, is watching to see what happens with the TVA coal ash. No one with the company will comment publicly, but sources say management is definitely watching to see if any opposition surfaces. Alabama Power has coal ash piles of its own to deal with all over the state.
While Mr. Bamberg is against the dirty coal ash being dumped in his back yard, so to speak, philosophically he does not oppose burning coal for energy.
"It's the nasty, unspoken problem of what you do with the waste," he said. "The answer for coal is not to find the poor counties and dump it on them."
That's exactly what happens, however, in an unregulated market in the absence of a national energy policy, with plans in place for local disposal of hazardous materials — near the plants that generate the waste.
"I'm no Constitutionalist," Bamberg said. "But I think that should be against the law."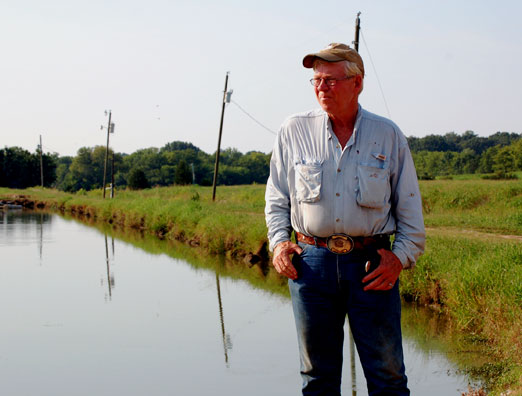 Glynn Wilson
Robert Bamberg of BIP Fish Co. by one of his catfish ponds in Perry County, Alabama…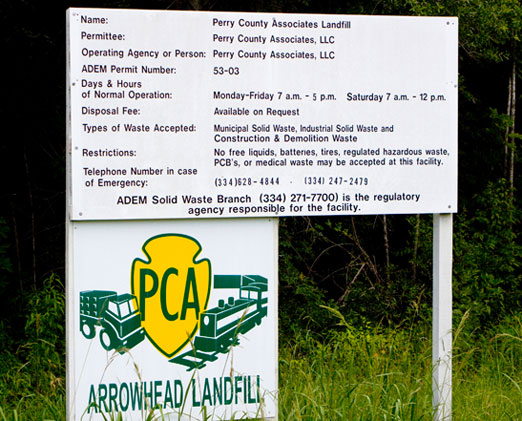 John Wathen
Videos by John Wathen, Hurricane Creekkeeper
Related Story
TVA to Begin Coal Ash Spill Cleanup
© 2009 – 2016, Glynn Wilson. All rights reserved.