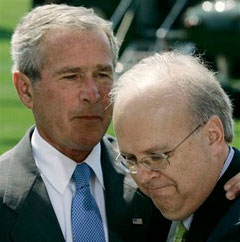 by Glynn Wilson
Karl Rove admits having a "senior moment" in his testimony to the House Judiciary Committee, dancing around the key allegations that he had direct knowledge and an active role in the prosecution of former Alabama Governor Don Siegelman and the firings of U.S. attorneys. He takes what Washington insiders call the Ronald Reagan defense, a.k.a. the "Alzheimer's defense," as in "I don't recall."
In other words, and in contradiction with other published reports that Rove once again denied his role in manipulating the justice system from the White House, Rove's testimony is what we call in the news business, "a non-denial denial."
In transcripts and documents released Tuesday by the committee, Rove freely admits his friendship with former Alabama Attorney General William "Bill" Pryor, who started the first investigation of Siegelman in 1998.
Rove admits the role he and his campaign operation played in turning Alabama's Supreme Court Republican. He admits knowing Bill Canary of the Business Council all the way back to the days when he worked for George Herbert Walker Bush, and to communicating with Canary "maybe a dozen times" while Rove was the top political adviser to President George W. Bush in the White House
Under questioning from Elliot Mincberg, majority chief counsel for investigations and oversight, Rove admits meeting Bill Canary's wife Leura Canary, the federal prosecutor who first brought the second case against Siegelman in Montgomery.
"I'm pretty sure I've met her, but I don't have any great familiarity," Rove testifies. Then later, when asked how he communicated with her, "in person or on the phone," he says, "I'm sure I had contact with her, but I literally couldn't tell you if I have ever talked to her or if I have ever seen her in person. I believe I met her at something in Alabama, but — I am sure Bill has introduced me to her, but I don't know. It may have been to the White House holiday party or something. But I don't recall."
Right.
Rove admits he most likely advocated for her to get the nod as U.S. attorney initially, "If she passed the process with Justice."
When asked if the issue of political corruption in Alabama ever came up during her confirmation process, Rove answered: "Not that I recall." When asked if the issue of Governor Siegelman ever came up in his conversations with her, he testified: "Not that I recall."
According to legal analyst Scott Horton, a contributor to Harper's magazine and a lecturer at Columbia, "the documents collectively make it clear that Karl Rove was not only at the center of the dismissal of the U.S. attorneys, but also exercised close oversight over other matters at the Justice Department. The case in New Mexico seems clearly to be one where the dismissal of a U.S. attorney occurred in order to corruptly influence a criminal investigation."

Rove admits knowing and communicating with Rob Riley, the son and former campaign manager of Governor Bob Riley, "a handful" of times, although he "doesn't recall" whether they specifically discussed the case against Siegelman. Yet when asked if Riley ever lobbied him or asked for his advice, Rove testified, "Not that I recall."
When asked if anyone connected to Riley ever lobbied him or sought his advice, he said. "I'm not aware of somebody. There may have been somebody who was a legal client of his who was lobbying the White House, but I don't specifically recall."
When asked about being contacted by Stewart Hall, who is connected to Riley and worked with the Federalist Group, Rove testified: "I know his partner or his former partner…. But I think I met Mr. Hall."
When pressed about Hall's partner, Rove stops and says, "It will come to me in just a minute. I am having a senior moment here … Wayne Berman."
Perhaps the committee didn't know that Berman is one's of Rove's best friends in Washington, who he pushed on Stewart Hall to hire at the Federalist Group, a Republican lobbying outfit that has since changed its name. Berman's wife is Lea Berman, former White House Social Secretary. So it would be impossible for them not to know each other.
Mr. Rove then admits being approached by Berman, although he tried to confuse the issue with a bit of redirection.
"I'm not certain that is a matter connected with Stewart Hall," he says. "It may be connected to Rob Riley."
Rove admits helping to coordinate fund-raisers for Bob Riley with the president, placing him in direct involvement in the political race between Siegelman and Riley in 2006, but he can't seem to remember if he accompanied Bush on several trips to Alabama in 2002 and 2005, He admits, though, "it would be normal and customary I would accompany … we were generally focused on trying to elect Republicans to Democrat seats…"
Duh.
Rove denies any conversations about the Siegelman case with Noel Hillman with the Department of Justice's ethics unit, the Office of Professional Responsibility, although he later advocated for Hillman's appointment as a federal judge. Rove goes on to deny communicating with anyone in the U.S. attorney's offices in Alabama, then he does his Alzheimer's two-step again. "Not that I'm aware of," he testifies.
When asked if he communicated with anyone at the Alabama attorney general's office or any law enforcement agency, Rove hesitates.
"I may — I don't know when Bill Pryor was attorney general. I may have had a conversation about Siegelman at some time about him," although he says it was because of "something bubbling up in the press."
Rove's political consulting firm ran Pryor's campaign for attorney general in 1998, the same year Siegelman was elected governor. Pryor announced an investigation of Siegelman, but ended it saying he could not unearth enough evidence to bring charges. Bush appointed Pryor to a federal judgeship with the Eleventh U.S. Circuit Court of Appeals in 2003.
When asked about the failed prosecution of Siegelman by Alice Martin, the U.S. attorney in Birmingham, and its impact on Siegelman's reelection chances, Rove indicated his view was that it would be "pretty damaging" to Siegelman. But he just could not recall any specific communications on his part, and he claims he learned everything he knew about it from press coverage.
When the committee produced e-mail messages showing he had communicated about the race by sending a story in the Southern Political Report to Susan Ralston and Matt Schlapp of the Office of Political Affairs, he just claimed to be sharing it with them and that he was not really interested in the Alabama campaign — even though he admitted his political consulting firm ran campaigns in Alabama in 1994, 1996 and 1998.
When asked about other e-mails showing he communicated with Kitty McClullough at the RNC and Sara Taylor about "doing some digging" on the Riley-Siegelman race, he sidestepped the question, but admitted the information he got came from Toby Roth, Riley's chief of staff.
When asked directly if he had any dealings with Roth, Rove hemmed and hawed again.
"Not that I recall," Rove testifies. But then: "I probably did talk to him during his time as chief of staff, but I don't recall specifically when or what subject."
Rove's practiced testimony includes his defense of a statement he made to the Birmingham News that everything he knew about the Siegelman case came from what he read in the press.
"Read about it in the newspaper," he says. Yet we know for a fact he and prosecutor Alice Martin communicated with the Birmingham News about this case before. But again, Rove testified, "If it doesn't appear in the press, I don't know about it."
Right.
When asked again if he discussed Siegelman with Riley or Canary, Rove dodges the question. "I may have had conversations with Kitty McCullough," he says.
"I'm not aware that I had a conversation, but I wouldn't — I don't want to — there could have coincidentally been such," Rove says. "I just don't recall."
In another e-mail from Sara Taylor to Rove and Taylor Hughes, Rove learns of the Siegelman conviction third-hand from Jason Huntsberry, who quotes Toby Roth.
Once again Rove testifies he doesn't remember the e-mail, but declares he must have read it. He then dances around when he learned of the conviction, claiming he simply heard about it from the "evening news," not political operatives, although he quips: "Marvelous thing, this Internet."
He admits receiving an e-mail message about Siegelman's conviction on his political Blackberry, not his White House desktop computer, but he downplays its importance in showing that he was in direct touch with political operatives in Alabama and clearly following developments in the case.
Then Rove says he "doesn't recall" talking to whistle-blower Jill Simpson about the Siegelman case, although the committee never presses him on the phone records that prove they were in direct communication.
"I have no recollection of meeting her or talking to her," Rove testifies, in what must be another one of Rove's "senior moments," since the committee is in possession of direct evidence that they did talk.
Rove's testimony contradicts the sworn affidavit Rob Riley gave to the committee in lieu of being called as a witness. In fact, Rove denies any knowledge of talking to Riley about a FEMA contract. That's the very reason Riley gives in his affidavit for talking to Rove, when he denied the phone conversation Jill Simpson overheard indicating Siegelman's prosecution was a done deal — after Siegelman announced he would run for governor against Bob Riley in the 2006 campaign.
Finally, Mincberg asks, "Under penalty of prosecution, do you stand by your statements that you had no communications, other than the one's you've generally testified to today relating to possible investigation, prosecution, or criminal acts by Governor Siegelman?"
"I stand by my statement," Rove concluded.
Horton said in an e-mail interview that Rove's testimony proves he was "obviously keenly following the prosecution of Don Siegelman. The key is his relationship with his close friend Billy Canary, whose wife brought and managed the prosecution, up to its conclusion."
There is no clear indication as of deadline whether the House Judiciary Committee will continue its investigation further, whether there will be public hearings or charges filed. Legal experts who have followed the case from the beginning say Rove appears to have perjured himself on two fronts.
Jill Simpson declined to comment for this article, although she hinted that due to the lack of follow-up by the committee in seeking the testimony of the political players in Alabama, including Bill Canary and Rob Riley, that would seem to indicate that the committee does not have the motivation to get the whole truth in the case.
© 2009, Glynn Wilson. All rights reserved.