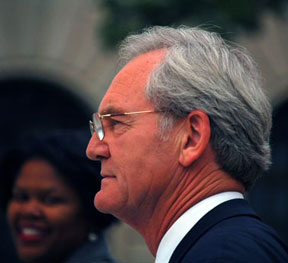 Glynn Wilson
Former Alabama Gov. Don Siegelman in front of the federal courthouse in Montgomery, with Sephira Bailey Shuttlesworth, wife of Birmingham Civil Rights icon Fred Shuttlesworth, in the background.
Federal prosecutors in Montgomery filed their response this week to Alabama Governor Don Siegelman's and HealthSouth founder Richard Scrushy's motion for a new trial, and their demands for recusal of Chief U.S. District Justice Mark E. Fuller.
It is boilerplate legalese that basically says they do not deserve a new trial and the judge should not recuse himself.
Siegelman reacted immediately to the news.
"I am shocked by the contentions of the United States Government's response to the motion for the judge to recuse himself from all other proceedings in this case," Siegelman said in an e-mail message.
"The government farcically argues that the trial judge and 11th Circuit decided in my case that the system operated fairly for me because the trial judge assumed that the emails from Juror No. 7 and Juror No. 40 were 'authentic'." he said. "So when he denied our motion for a new trial, based on those emails, both courts said that it's OK for jurors to be emailing each other before the close of the government's case, OK to be in a a conspiracy to subvert the defendant's constitutional right to a fair trial."
Keep in mind what these jurors were saying and what they were trying to do, he said.
For background, check this story from our archives:
Explosive New Story Lends Credence to Siegelman Appeal
"The emails revealed a deep hidden prejudice against both me and Richard Scrushy and just as important, the emails showed that the jurors were violating the order of the Court and plotting to get other jurors to vote for a conviction," Siegelman said. "How in the world can anyone have respect for a system of justice if this kind of conduct is given a stamp of approval by a trial judge and a court of appeals?

"According to the United States government these courts have just said that jurors are now free to conspire by email or text messaging during the course of a trial and are free to conspire with one another to try to get votes for a conviction even before the evidence and witnesses have been heard," he said. "How can the U.S. government think that such a judgment promotes public trust and confidence in the fairness of our judicial and court systems?"
© 2009 – 2016, Glynn Wilson. All rights reserved.