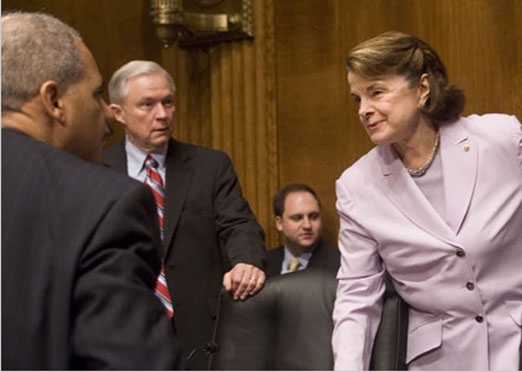 NYT
On the eve of the big show in Washington, the first Supreme Court nomination hearings of the Obama era, it is interesting to wonder why the New York Times chose to use this photo of Alabama Senator Jeff Sessions without identifying him. That's the back of Attorney General Eric Holder's head on the left, along with an unknown aide and Senator Dianne Feinstein, Democrat of California, chairwoman of the Senate Intelligence Committee.
The photo did not run on a story about the Supreme Court, where Sessions will be in the national limelight this week.
It ran on a story about the new pressure facing President Obama to reverse himself on looking forward, not back (a story we broke back in November), by ramping up investigations into the Bush-era security programs — despite the political risks. Leading Democrats on Sunday demanded investigations of how a highly classified counterterrorism program was kept secret from the Congressional leadership on the orders of Vice President Dick Cheney.
On Fox News Sunday, Feinstein called it a "big problem." Senator Richard J. Durbin, Democrat of Illinois, on "This Week" on ABC, agreed that the secrecy "could be illegal" and demanded an inquiry.
Feinstein Suggests CIA Concealment Broke Law
This is too rich. Stay tuned this week…
© 2009, Glynn Wilson. All rights reserved.