Glynn Wilson
Update: We set up camp for a couple of nights at the Ripplin' Waters campground just north of Sevierville, Tennessee, along the Little Pigeon River, with Clingman's Dome, the highest point in the Great Smoky Mountains National Park, in view off in the distance.
SOMEWHERE ON THE LITTLE PIGEON RIVER, Feb. 27 — Too bad I can't tell you where this picture was taken, yet : )
Can't make it too easy for the GOP-IT boys to find me on the Google Earth map, if you know what I mean. We're still editing video from the belly of the beast, and working on a major inside report now…
But we must take a Yuengling break at sunset here beside the Little Pigeon River, with the Smoky Mountain peaks in view (off in the distance in blue).
WAY more to come…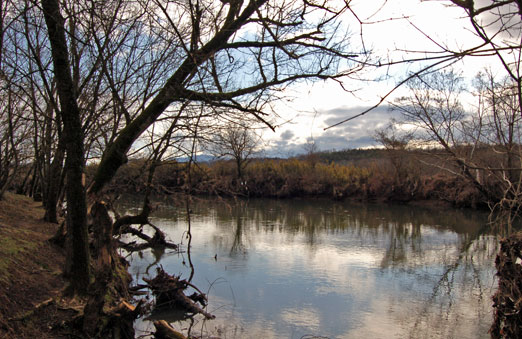 Glynn Wilson
Update: The site we chose, number 30, was right beside the one rapid giving the park its name. Dozing off to sleep in the back of the Chevy van by the "riplin' waters," livin' the MoJo life on the road…
© 2009 – 2016, Glynn Wilson. All rights reserved.