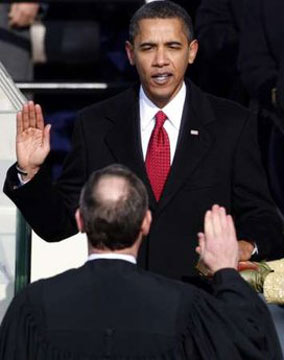 Yahoo
President Barack Obama
Video below…
Click here to add your comments below the historic speech text…
Barack Obama took the oath of office as the 44th president of the United States today and pledged to "begin again the work of remaking America."
Addressing a throng of about 2 million people on The Washington Mall and millions of others watching on television around the world, Obama recognized the multiple crises now afflicting the nation at a time of war abroad and economic turmoil at home. But he sought to rally Americans to a "new era of responsibility" and the promise of a brighter future.
He cited a profound "sapping of confidence across our land — a nagging fear that America's decline is inevitable, and that the next generation must lower its sights." The challenges are real, serious and many, and "they will not be met easily or in a short span of time," he said.
"But know this, America — they will be met. On this day, we gather because we have chosen hope over fear, unity of purpose over conflict and discord. On this day, we come to proclaim an end to the petty grievances and false promises, the recriminations and worn out dogmas, that for far too long have strangled our politics."
"Starting today," he said, with the local crowd totally silent in respect of the historic moment and the words almost as powerful watching on screen from afar, "we must pick ourselves up, dust ourselves off, and begin again the work of remaking America."
In his much-anticipated inaugural address, Obama sketched out a broad vision for the coming years in domestic policy, while urging rejection of the "false choice" between security and American ideals when it comes to foreign policy.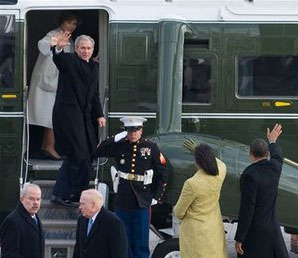 Yahoo…
…Bush says goodbye…
On the domestic front, the new president pledged to create new jobs, build up the nation's infrastructure and "restore science to its rightful place."
He said the United States would "begin to responsibly leave Iraq to its people, and forge a hard-earned peace in Afghanistan." He pledged to work with other nations to fight the dangers of nuclear arms and the threat of global warming.
But he also warned: "We will not apologize for our way of life, nor will we waver in its defense, and for those who seek to advance their aims by inducing terror and slaughtering innocents, we say to you now that our spirit is stronger and cannot be broken; you cannot outlast us, and we will defeat you."
Obama extended a hand to the Muslim world, while also cautioning that leaders who sow conflict or blame their ills on the West will be judged by their people "on what you can build, not what you destroy." And to those who "cling to power" through corruption, deceit and repression, he said: "know that you are on the wrong side of history; but that we will extend a hand if you are willing to unclench your fist."
To watch the video and read the comments, click below…

Obama's Swearing In and Inaugural Address
Full text of speech in the comments section below…
© 2009, Glynn Wilson. All rights reserved.