Voters Repudiate Bush's GOP
by Glynn Wilson
Barack Obama of Illinois, the land of Lincoln, swept to victory in an overwhelming and historic landslide that is a repudiation of the policies of George W. Bush and the Republican Party, according to early voting returns Tuesday night.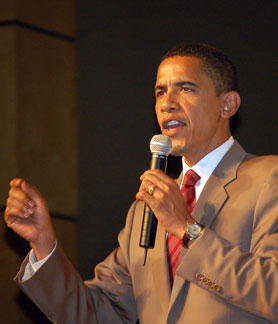 Glynn Wilson
Barack Obama speaking in Birmingham last year
I won't believe it until we wake up in the morning and the election holds up overnight and we know for sure Karl Rove's hackers didn't steal it in the middle of the night.
But according to the Associated Press and other news organizations, Obama will become America's first black president in an electoral college landslide that overcame racial barriers as old as America itself.
"Change has come," Obama told a huge throng of cheering supporters, as McCain conceded.
The son of a black father from Kenya and a white mother from Kansas, the Democratic senator sealed his historic triumph by defeating Republican Sen. John McCain in a string of wins in hard-fought battleground states – Ohio, Florida, Virginia, Iowa and more.
On a night for Democrats to savor, they padded their majorities in the House and Senate, and come January will control both the White House and Congress for the first time since 1994.
In his first speech as president-elect, Obama catalogued the challenges ahead: two wars, a planet in peril, the worst financial crisis in a century.
Everything will change. Everything has changed.
NYT: Bush's Legacy Is Rejected
More stories on the Locust Fork News page.
Obama's Historic Address to the Country
Full text of speech in the comments below…
© 2008 – 2016, Glynn Wilson. All rights reserved.