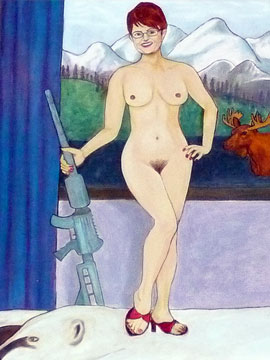 Sarah Palin's nude portrait
There's been no shortage of takeoffs on Sarah Palin lately, from television skits to action figures, but Bruce Elliott has gone one step further than most. He's taken off her clothes, according to the Chicago Tribune.
Elliott's wife, Tobin Mitchen, owns the Old Town Ale House on Chicago's North Side. He painted a nude portrait of the Republican vice presidential nominee and hung it above the bar, where it's become a huge draw.
Elliott doesn't like her politics, but finds something about her very interesting to the point of holding a crush on her, he said.
"I've been following her religiously," he told the reporter. "I had never heard of her before, like everyone else. I find her bizarrely fascinating, even though I pretty much despise everything she stands for."
Elliott's daughter, who looks a little like Palin and does a "great" impression of her, served as model for the governor's body. He began painting Palin's smile and trademark Tina Fey glasses, then filled the details, her red high heels and a serious gun with the Alaska landscape in the background, along with a polar-bear rug and a scared moose.
The bar is a popular spot for Second City comedians for beer and pinball after shows. Now the place is apparently packed all the time, since the image hit the Web on Monday.
© 2008 – 2015, Glynn Wilson. All rights reserved.