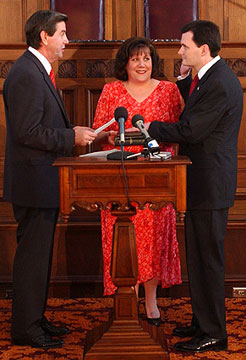 Troy King sworn in as Attorney General by Gov. Bob Riley as his wife Paige looks on…
A spokesperson for Alabama Governor Bob Riley denied that Attorney General Troy King is preparing to resign in the wake of a massive rumor campaign that has yet to be fully confirmed. The word is, according to multiple sources in Montgomery and elsewhere, that King was recently caught by his wife in a gay affair with a male aide and banished from his home.
According to Tara Hutchison in the executive office of the governor they have heard of no plans in the works for King's resignation. She said she had not heard that he had been kicked out of his home because of a gay affair.
Governor Bob Riley's press office had refused to return multiple phone calls from this independent press outlet even though some sources accuse Riley of perpetrating the leak. The attorney general's press office also declined to return phone calls seeking comment.
The Locust Fork News and Journal heard about this a couple of weeks ago from a Montgomery lawyer, and have had numerous contacts with people trying to confirm the truth of the rumor.

Troy Robin King, according to his profile on Wikipedia, previously served as an Assistant Attorney General. He was appointed by Governor Bob Riley in 2004, when William Pryor resigned to accept a federal judgeship on an appointment from President George W. Bushy. He then defeated Mobile County District Attorney John Tyson, Jr. in the 2006 election by a margin of 54-46 percent.
King was born on August 22, 1968, in Elba, Alabama. He is currently married to Paige King with whom he has three children; Briggs, Colden, and Asher. He is a Baptist. King received his undergraduate degree from Troy University and is a 1994 graduate of the University of Alabama law school.
During the 2005 legislative session, King made headlines by wearing an electronic monitoring bracelet of the kind used by parolees and others under judicial monitoring. King promised to wear the bracelet until the legislature passed tougher monitoring laws for parolees and convicted sex offenders, and removed it when such laws were passed.
King has made opposition to gambling a central theme of his administration. In 2006, King asked the United States Department of the Interior to deny an application by the Poarch Creek Band of Indians to expand their gaming operations in Alabama. King later filed a lawsuit against the Department to keep it from pressuring Alabama to permit video gaming on Alabama reservations.
King is also a staunch proponent of the death penalty, a position that has subjected him to criticism from death penalty opponents. When many states voluntarily suspended executions during U.S. Supreme Court litigation over lethal injection, King continued to seek the setting of execution dates in Alabama.
King's support of the death penalty created a controversy when, in 2007, a district attorney in suburban Birmingham supported commutation of the death sentence of an accomplice, in a case where the actual shooter had escaped the death penalty because he was a juvenile. King sought to block the district attorney's testimony to that effect, and criticized the district attorney. The incident led a wide, bipartisan coalition of local district attorneys, as well as newspaper editorials, to criticize King.
In late 2006, King was forced to recuse his entire office from the ongoing investigation of abuses in the Alabama community college system, when it emerged that he had asked community college chancellor Roy Johnson to hire the mother of one of King's employees. This request was made while King knew Johnson to be a target of the ongoing investigation. It later emerged that King had, also during the investigation, asked Johnson for community college system financial support for Victims of Crime and Leniency, an advocacy group politically supportive of King. The investigation eventually resulted in a guilty plea by Johnson in the related federal investigation.
In early 2007, an investigation revealed that King had accepted free tickets, food, and skybox access to an Atlanta Braves baseball game from Alabama Power Company the preceding season. Alabama Power had not reported the gifts to appropriate ethics agencies as required, until contacted by a local newspaper. King attended the game in question with his family and family friends. The food bill for the outing was over $1,200, and the skybox normally rented for $2,400 a day.
Because King, as Attorney General, was legally responsible for representing Alabama Power customers before the Alabama Public Service Commission and other agencies, he was widely criticized for accepting the gifts. King reimbursed Alabama Power for $486 for his family's food, but did not reimburse it for food eaten by his family's guests. King denied wrongdoing in the matter.
Later in 2007, Anthony Castaldo, formerly an investigator with the Attorney General's office, submitted an affidavit stating that King had ordered him to investigate a Birmingham-area judge for political reasons, and later punished Castaldo when a year-long investigation showed no evidence of wrongdoing.
After other investigators took over the case, King secured an indictment against the judge, but the charges were later dismissed.
King was an early supporter of the 2008 presidential campaign of Arizona Senator John McCain. King's name had been mentioned as a possible gubernatorial candidate in 2010, but we suppose that's out now…
King was also known for his fight against the sex toy shops in Montgomery. Looks like Shakespeare was right … whoever cries the loudest…

Posted by Loretta Nall
Bob Kincaid has been keeping up with the Sex Toys for Troy King and the erotic asphyxiation death of Reverend Gary Aldridge and he put together this song called "Latex in Montgomery'. It is done to the tune of "Angel from Montgomery" by John Prine and Iris DeMent.
If I'd a knowed that I'd a sent Troy King a Blow-Up Boar Hawg
© 2008 – 2012, Glynn Wilson. All rights reserved.