by Glynn Wilson
Updates below…
Alabama Governor Bob Riley made an impromptu appearance at the Tuscaloosa News on Wednesday and broke his silence in the political prosecution of former Alabama Governor Don Siegelman. In response to questions from Tuscaloosa News columnist Tommy Stevenson, Riley claimed he had nothing to do with the case.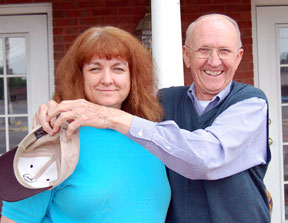 Glynn Wilson
Rainsville attorney Jill Simpson with her dentist, Dr. Marvin Barron, the brother of long-time state legislator Lowell Barron
He also used the forum to personally slam Alabama attorney and GOP whistleblower Jill Simpson, who is a key source in exposing the role of White House officials in manipulating the Department of Justice into putting Siegelman on trial and firing federal prosecutors who were not so loyal to President George W. Bush's political agenda to go along with using their offices for corrupt political purposes.
"Dana Jill Simpson has no, zero, credibility. Anyone who has ever talked to her, anyone who has ever listened to her, understands that," Riley said in response a question from Stevenson. "The only people who give it any credibility are Don Siegelman's attorneys."
But the fact is, a number of national news organizations thought enough of Ms. Simpson's story to write articles and run television news segments about it, and Congressional investigators gave it enough credence to take her testimony under oath. The last part is an odd comment, considering Siegelman's attorneys have never used Ms. Simpson's affidavit signed last May in Siegelman's appeal.
Riley admitted knowing Karl Rove, Bush's former political adviser, but he denied talking to Rove or soliciting his help for anything in Alabama, including the Siegelman prosecution. But it is well known that Rove's political campaign consulting firm has been involved in many races in Alabama, including state Supreme Court races and the campaign of former state Attorney General William Pryor, who first started an investigation of Siegelman in the late 1990s.
"It's interesting with all the investigations going on in Washington, D.C. that Mr. Bob Riley wants to slam me in the press. I've not been out lately making any statements," Ms. Simpson said in an interview Wednesday.

"My best suggestion for him is, instead of running his mouth in the press, he needs to go up there and put his hand on the Bible and raise his right hand and take an oath to tell the truth in front of the House Judiciary Committee."
Further, she said, his son needs to quit avoiding appearing before the committee.
Rob Riley, the governor's son who was in contact with Ms. Simpson as a Republican volunteer before she split with the Alabama Republican Party for being asked by their paid operatives to do "dirty, untrue research," has so far avoided making a statement he promised to make before the House Judiciary Committee, which is investigating the political prosecution of former Alabama Governor Don Siegelman.
A report from the committee in the spring showed that the committee had made an attempt to get Rob Riley to make a statement, and that Riley indicated he would. But since then, sources say, Riley has avoided numerous attempts from the committee to get in touch with him.
Rove is avoiding a Congressional subpoena to testify himself in the investigation, hiding behind a broad claim of executive privilege that protects communications between the president and his advisers. Legal experts say the executive privilege claim in this case is more than a little thin, since Congress is not asking Rove to testify about communications with the president, but with the Bush Justice Department. Some sources say the president was directly in on the political manipulation of justice in Alabama and that in fact he may have been in the loop, so it could be that Rove is threatening to expose the president's role if he is not protected by the White House. He does not seem to be the type to fall on his sword for the king.
"I would ask the people of Alabama to consider that it is easy to say things in the press that may not necessarily be true, but it is entirely a different thing to put your hand on the Bible and agree to tell the truth and take an oath and do it in front of congressional committee lawyers." Ms. Simpson said. "I took the oath. I strongly suggest they do the same."
Ms. Simpson said further that since the governor is using his "powerful position" to attack her credibility, "one would think he would be more than willing to show the citizens of the great state of Alabama that he was telling the truth."
While Riley said nobody believes her story, she said that is just not true and there is no good reason not to believe it.
"I provided a video tape of the event I declared in my affidavit and phone records, and neither of those things have been disputed as incorrect," she said.
Riley also said Ms. Simpson's affidavit and Congressional testimony are "ludicrous" and "have no relation to the truth," and he tries to say there is some difference between what she is saying now and what she said last summer under oath. "It's never the same," Riley says, attempting a little laugh.
But of course she hasn't said anything in public lately, not since MSNBC ran a small quote from her on video back in March after CBS's "60 Minutes" ran it's long segment fleshing out much of the story.
"He wants to say I've expanded my story," Ms. Simpson said. "But I have no control over the different aspects the press covers."
Riley further says something that is so patently false any follower of this story could spot right away.
"No one's challenged it (Ms. Simpson's story)," Riley says. "Everybody has accepted it."
But the fact is, every major newspaper in Alabama, GQ magazine and the conservative Weekly Standard magazine and a few right-wing bloggers have challenged it with the typical Rovian slant that she is "a loon."
I've already reported many times that I know her personally and have investigated the story and see no reason to doubt its veracity. Rove and Riley and Bill Canary at the Business Council and every other loyal Bush Republican involved in this scandal have refused to testify under oath.
Ad 1: "Dana Jill Simpson is a brave American patriot," Don Siegelman said when contacted for comment on Riley's statement. "It is so refreshing, as my family, friends and I have gone through this nightmare, to wake up to the voice of such an angel. Ms. Simpson should give all of us faith, that even in the darkest hours of our country's history of abuse of power, there is hope because the American people will stand up to fight injustice."
On it's Website, the Tuscaloosa News promises to run a full story in the newspaper Thursday, and more of the video on the Web too.
Here's the video excerpt from Wednesday:
Ad 2: Tommy Stevenson said Riley was doing a tour of editorial boards at his request to talk about other issues, especially the subject of special sessions that might be needed to help bail out Jefferson County. After the editorial board meeting, Stevenson then had the video camera rolling and asked Riley about the Siegelman case.
The day 2 story is here:
Riley Says Siegelman Case Wasn't Political
© 2008 – 2016, Glynn Wilson. All rights reserved.