by Glynn Wilson
Birmingham attorney and former U.S. attorney Doug Jones testified before a subcommittee of the House Judiciary Committee Tuesday about what he called "a disturbing trend" of selective prosecutions on the part of the Bush Justice Department. Rep. Artur Davis, D-Birmingham, also concluded that politics was clearly involved in the prosecution of former Alabama Governor Don Siegelman.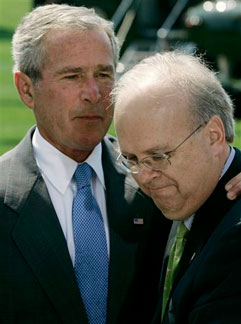 President Bush embraces Karl Rove on his resignation day in August
While partisan politics should play no role in bringing cases and the timing of cases brought against U.S. citizens by the Department of Justice, Jones said: "That does not appear to be the case with this administration."
He testified that state and federal prosecutors started investigating Siegelman not long after he assumed the office of governor in January, 1999.
Jones said he became aware of an investigation of Siegelman aides in 2001 and 2002, who committed crimes for which Siegelman "had no knowledge."
He began representing Siegelman in 2003 when federal prosecutors indicated they were investigating the former governor once he made it clear he was going to run for the office again in the 2006 race.
In a meeting with the U.S. Attorneys office in Montgomery in the spring of 2004, Jones testified he was assured that Siegelman would not be charged in the investigation.
Then in the fall of 2004, he was told that a meeting was held in Washington and that a top-to-bottom review of the Siegelman cases was ordered, and then "all of a sudden" Siegelman was indicted after all the next year.
The new case was "a reversal of what we had been told" by the Justice Department and "came as a stunning shock," he testifieid, and it was a based on "a wholesale renewed investigation."
"There is no question in my mind that the Department of Justice in Washington was behind the investigation," he said. And he said there is no question in his mind that it was "driven by politics."

Such a blatant case of interjecting politics into the legal process "undermines the credibility of the system," he testified.
He quoted Dr. Martin Luther King Jr., who said, "An injustice anywhere is an injustice everywhere."
Under questioning from Rep. Artur Davis, D-Birmingham, Mr. Jones reiterated that the review of the case in Washington occurred during the same time frame that Republican lawyer Jill Simpson testified her conversation took place with Gov. Bob Riley's son Rob Riley, indicating that Bush political adviser Karl Rove met with the DOJ Office of Public Integrity and pressured them to bring the case.
Jones also testified that it was clear that the U.S. Attorneys office in Montgomery was involved in "targeting individuals" rather than investigating crimes in the Siegelman case. "This is something we cannot tolerate in this country," he said. It gives prosecutors way too much leeway to cajole witnesses and abuse the legal process.
Jones also said in response to questions that "there is no question" there were people in the state and in Washington, D.C. who were "out to get Siegelman."
Davis entered into the record the phone record Ms. Simpson submitted to the committee as evidence, which shows an 11 minute phone call on Nov. 18, 2002, to the phone number of Rob Riley's law firm, Riley and Jackson, in Homewood.
He used this piece of evidence to counter affidavits filed with the committee today by Rob Riley and Terry Butts, both of which deny that a phone call took place.
In his concluding remarks, Davis said he had trouble believing in the American legal system after what he has seen in the Siegelman case.
"At every turn we see partisan politics, Washington politics, Karl Rove politics," Davis said.
He indicated that while the prosecutors in Montgomery may be good people and have the best of intentions, he said perhaps it was the culture of the Gonzales Justice Departmant that led "good prosecutors" to believe the only way "to earn spurs" was to "turn the Department of Justice into a political tool."
Former Republican Attorney General Richard Thornburgh testified about a political case in Pennsylvania.
University of Missouri Communications Professor Donald C. Shields testified about a peer reviewed study he conducted showing that the Bush Justice Department has investigated and tried far more Democrats than Republicans.
"There is no question" that politics has been involved, he said. "The numbers don't lie."
© 2007 – 2012, Glynn Wilson. All rights reserved.