by Glynn Wilson
It is interesting that the New York Times has finally decided to report on the political bias of the Bush Justice Department now, on the verge of sentencing for former Alabama Gov. Don Siegelman and HealthSouth founder Richard Scrushy.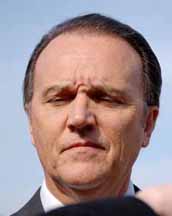 Photo by Glynn Wilson
Richard Scrushy found guilty in Montgomery case
In a story printed today with a May 31 dateline, a Times correspondent reports that a "top Republican operative in Alabama boasted in 2002 that the United States attorneys in Alabama would 'take care' of Mr. Siegelman. The operative, William Canary, is married to the United States attorney in Montgomery, Leura G. Canary. Mr. Canary, who heads the Business Council of Alabama, was an informal adviser to Bob Riley, a Republican, who defeated Mr. Siegelman in 2002."
Also, the paper reports, "Mr. Canary worked in the White House under President Bush's father and has close ties to Karl Rove, Mr. Bush's top political strategist."
In an affidavit, attorney Jill Simpson said Mr. Canary's remark was made in a conference call with her and Rob Riley, Governor Riley's son and campaign manager, according to the Times.
"Ms. Simpson said Mr. Canary assured the younger Mr. Riley that 'his girls would take care of' Mr. Siegelman before he had a chance to run for the governor's seat in 2006 and identified 'his girls' as Leura Canary and Alice Martin, the United States attorney in Birmingham."

Ex-Governor Says Affidavit Shows Politics in Bribe Case
While covering the Scrushy trial in Birmingham for the Times myself as a free-lance reporter, I tried to get the editors to understand the political bias of the Bush Justice Department and tried to tell them that the case was failing. But I failed to get a single sentence critical of the Bush Justice Department's handling of the case in a single story. The Times demonstrated a bias against Scrushy and for the U.S. Attorney's office, all while former Times correspondent Judith Miller was in jail ostensibly to protect sources in her reporting on the non-existent weapons of mass destruction in Iraq.
I suspected they were kissing up to the Bush Justice Department in the Alabama case to try and get Ms. Miller released from jail.
The Times had been through a particularly trying high profile case of plagiarism and making up parts of stories when little Jayson Blair was exposed as a liar, leading to the departure from the Times of Executive Editor Howell Raines from Alabama. The new management seemed to bend over backwards to try and get its access back in the Bush administration, leading to what I thought was particularly shoddy reporting.
During the Birmingham Scrushy trial, I had a disagreement with the new Business section editor at the Times, who had just been hired away from the conservative Wall Street Journal, over an e-mail message, and never did anymore reporting for the Times.
After being a daily reader of the Times for 25 years and after working for them for the better part of two years out of New Orleans in 2002 and 2003, and in Birmingham in 2005, I no longer read the paper and rarely link to it on this Website because of their obvious lack of credibility in reporting on these stories.
This reporting strikes me as too little too late.
As for the Bush Justice Department's politicization of the hiring and firing of federal prosecutors, I also told the Times editors I worked with about an investigative reporting book I had been quoted in going back to the cases of former Alabama Gov. Guy Hunt and former Birmingham Mayor Richard Arrington.
Investigative reporter and former Timesman David Burnham had reported on how the Justice Department had been politicized by both Republican and Democrat presidents. Although in the recent political climate, it has become even more obvious that the Bush Justice Department turns its investigative powers even more on blacks and Democrats and ignores the crimes of white Republicans.
For more information on this trend, read my book review here under the headline and book title: Above the Law: Secret Deals, Political Fixes and Other Misadventures of the U.S. Department of Justice.
After that incident, I started this independent news Website to use my extensive journalism and academic experience to do things the right way – "without fear or favor." Unfortunately, the corporate news business in the U.S. has become so corrupt with stock market demands that the news gets slanted to the right.
Time magazine is also reporting on this story today: Rove Linked to Prosecution of Ex- Alabama Governor
© 2007 – 2015, Glynn Wilson. All rights reserved.