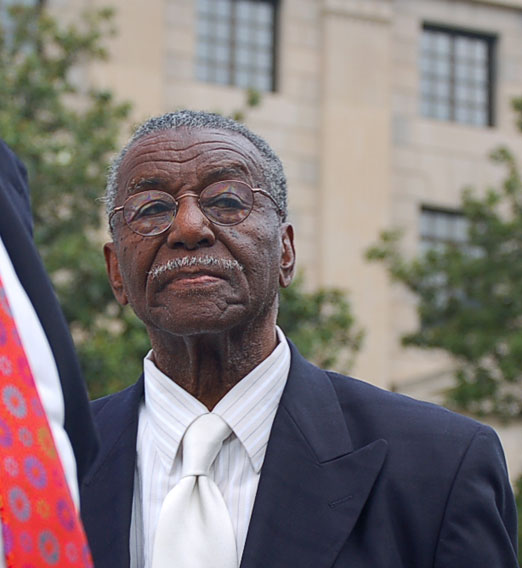 Photo by Glynn Wilson
The Rev. Fred Shuttlesworth, one of the couragious early leaders in the Civil Rights Movement from Birmingham, came South to Montgomery from Cincinnati to testify on Don Siegelman's behalf.
by Glynn Wilson
MONTGOMERY, Ala., June 26 – The Rev. Fred Shuttlesworth came all the way back home to Alabama from Ohio in the interest of justice and in support of former Alabama Gov. Don Siegelman, a "good man,"
"He's been the target of the Bush Justice Department, which has now endangered the style of government we fought so hard for," he said in an interview during an afternoon courtroom break. "It's tragic after we've come so far in our efforts to vote in good government, where people in office do right."
He quoted Saul talking to Samuel in the Bible: "The people we elect must be JUST in the fear of the Lord," he said, paraphrasing.
He said there have been two tragically critical times like this in our history since African-Americans got the right to vote against these corrupt politicians, who for so long kept them down.

The first was Nixon, who got caught in his corruption and resigned in disgrace.
"He was seeing preachers upstairs, and had the plumbers downstairs," he said, only partly in jest.
Now it is Bush, who allows the justice system to be turned into a Republican hit squad for Democrats, especially black Democrats.
Of the Siegelman case, he said, "This is a deliberate attempt to destroy a good man. He was a rising star in the Democratic Party."
But he doesn't think people have seen the last of Don Siegelman. He said: "I think he'll be back."
© 2007 – 2012, Glynn Wilson. All rights reserved.