It's blackberry winter in Birmingham and the spring bird migration is now underway. Reports from Dauphin Island, Fort Morgan and Gulf Breeze, Florida, show all kinds of migrants along the Gulf of Mexico coast.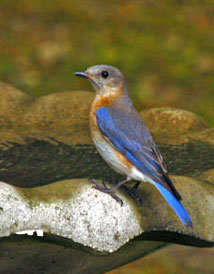 Photy by Glynn Wilson
An Eastern blue bird [sialia sialis] checking out a bird bath.
In middle Alabamaland, the blue grosbeak showed up Thursday afternoon just before dusk, too late to get a photo, but just in time to make me miss the first debate between Democratic Party candidates for president.
It's way too early for debates anyway, with the first primaries and caucuses still 10 months away. After watching the analysis on MSNBC, there were apparently few fireworks anyway, and the Iraq war dominated the discussion.
Democrats Fault Bush in 1st Debate
Speaking of war and impeachment, tens of thousands of Americans from Miami, Florida to the North Pole in Alaska will take to the streets on April 28 to call for the impeachment of President Bush and Vice-President Cheney.
This marks the beginning of what activists are calling "Impeachment Summer," an intensification of grassroots pressure on Congress, and it comes on the heels of the introduction by Congressman Dennis Kucinich of impeachment articles against Dick Cheney.
For more information, hit the A28.Org Website.
Then, don't forget to watch CBS's "Sixty Minutes" Sunday to see former CIA director George "Slam Dunk" Tenet slam the Bush administration for using him as a scapegoat for the ill-conceived invasion of Iraq.
Also, Jazzfest in New Orleans starts today. Watch the news page for headlines and stories about it. We won't be there this year, but we'll be missing the shade by the big live oak tree over by the Zydeco tent.
© 2007 – 2016, Glynn Wilson. All rights reserved.